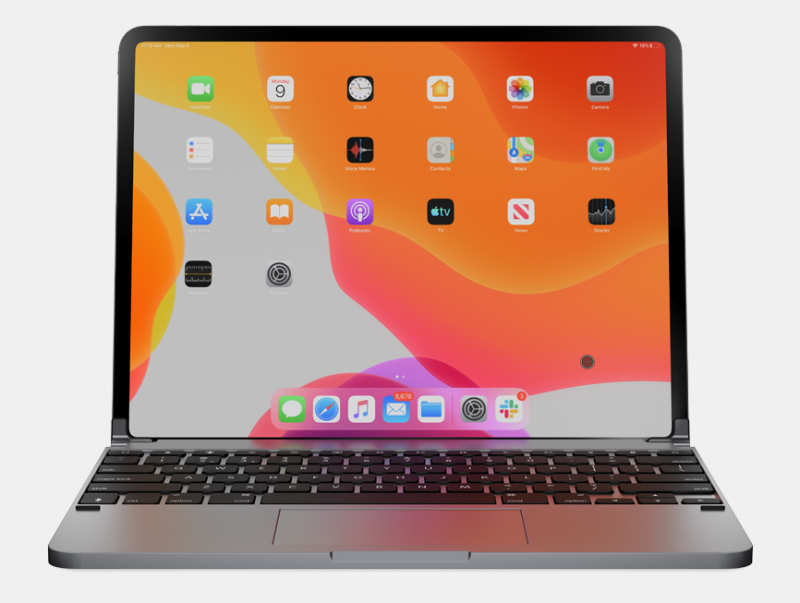 What it is: A third-party company has introduced an external keyboard for the iPad Pro that includes a trackpad.
The traditional desktop/laptop PC isn't as popular as it once was during the 80s and 90s when you needed a PC to do everything from email to instant messaging to getting map directions. Back then, people bought PCs because they were the best (and only) options. Nowadays, the world has shifted to mobile computing with smartphones and tablets, and PCs will never gain their dominance again.
Microsoft's response to the mobile computing world is to convert Windows, their desktop operating system, into a mobile platform. The idea is to keep people using their familiar software in a mobile platform like the Surface tablet. Unfortunately, this means compromise because Windows isn't optimized for mobile computing, but modified to work as both as desktop and mobile operating system.
This is like taking a pickup truck and trying to modify it to act like a motorcycle. When something isn't optimized for its particular task, you'll be forced to settle for a second-rate solution.
Apple's response to mobile computing is to focus their attention on both desktop and mobile computing. To cater to the desktop PC crowd, Apple continues selling the Macintosh. Then to focus on the mobile market, Apple sells the iPad Pro.
While Microsoft's approach offers a better short-term solution, Apple's approach creates a divisive short-term solution but offers a better long-term solution. In the short-term, people must choose between a Macintosh or an iPad Pro.
However, this allows Apple to optimize the Macintosh for desktop computing and optimize the iPad Pro for mobile computing. Yet the iPad Pro is slowly merging into the new PC of tomorrow.
A company called Brydge has introduced an external keyboard that makes the iPad Pro look and behave more like a laptop. This can be intriguing to some, but the real future of the iPad Pro isn't to mimic a laptop so much as it's to move beyond a laptop.
An iPad Pro isn't quite a replacement to a Macintosh, but it's getting closer with each generation, just like PCs weren't as powerful as mainframe computers until one day they were. Likewise, the iPad Pro will always lag behind the power of a PC until one day it will equal and then surpass it. When that happens, Apple's solution of the iPad Pro will emerge victorious while Microsoft's temporary solution of making Windows work as both a desktop and mobile operating system will be unable to keep up.
The future is mobile computing with tablets, not laptops. That future isn't here just yet, but it's coming. So you can choose which solution you want to pin your future on. A temporary patch like Windows, or an optimized solution like the iPad Pro?
If you need something versatile today, go with a Microsoft Surface tablet. If you want to prepare for the inevitable future, go with an iPad Pro.
To learn more about Brydge's external keyboard that turns an iPad Pro into a pseudo-laptop, click here.