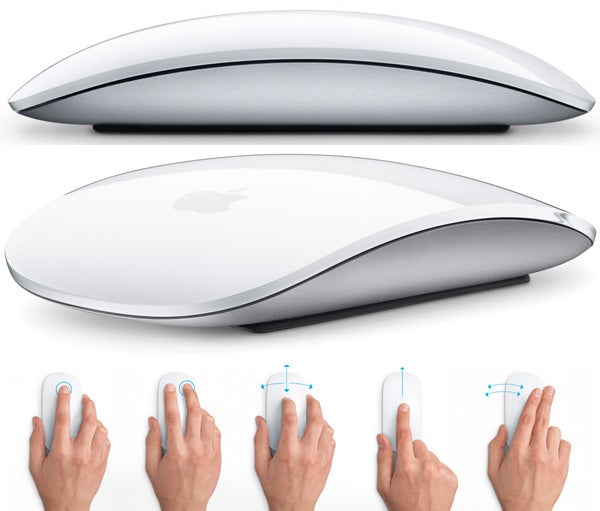 What it is: Right-clicking is a secondary way of giving commands through the mouse.
When Apple first introduced the Macintosh back in 1984, they offered a mouse with a single button. That way it would be impossible for anyone to click the wrong button. In comparison, early PC mice offered two or three buttons, making it easy o click the wrong button by mistake and not know why the computer wasn't responding the way you thought it should.
Today, Apple's Magic Mouse and Magic Trackpad have no buttons at all, but they still allow you to click just by pressing down on the surface of the mouse or trackpad. This eliminates the ugly appearance of buttons while giving users the ability to press anywhere they wish on the mouse or trackpad.
By default, many Macintosh computers only allow single clicking. If you want to right-click, you have two options. First, you can simply hold down the Control key and click. The Control-click action mimics a right-click.
Second, you can click the Apple icon on the menu bar and choose System Preferences to open a System Preferences window. Now click the Mouse or Trackpad window and select the Secondary click check box. Now you'll be able to click on the left corner of the mouse for a left click and the right corner of the mouse for a right click. If your'e using a trackpad, you can left click by pressing one finger on the trackpad and press two fingers on the trackpad for a right-click.
Something as simple as clicking and moving the mouse with a mouse or trackpad might seem like a mundane task, but it's often what separates Apple laptops from ordinary PC laptops. Try a MacBook trackpad and it will feel smooth and responsive to the touch. Try a typical PC laptop trackpad and you'll notice a difference right away. A PC trackpad is often far less responsive and less accurate. Until you see and feel the difference, you won't really know how poor far too many PC laptop trackpads can be.
The mouse and trackpad are an important part of communicating with your computer, so don't accept cheap mice or trackpads. That's like buying a new car and putting bicycle wheels on it. Get the best mouse and trackpad for your computer. For most PCs, that means buying third-party mice or trackpads. For the Macintosh, you'll probably be happy with the Magic Mouse or Magic Trackpad that comes free with every Macintosh.