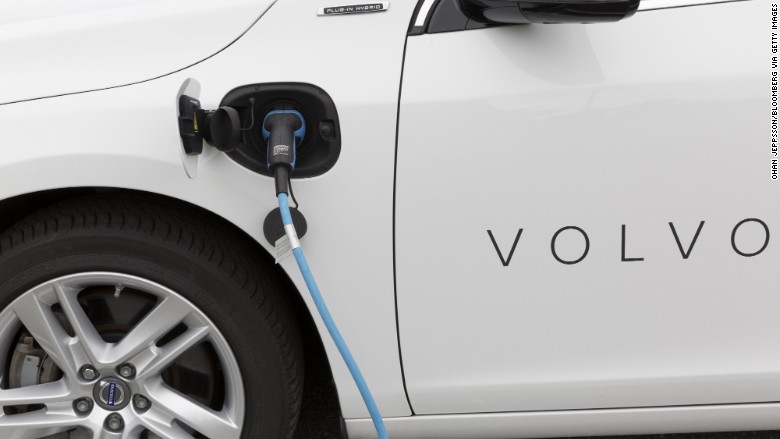 What it is: Volvo announced that after 2019, they will only sell cars that have an electric motor in them.
Volvo can see the future, partly because they're now owned by a Chinese company and China is plagued with air pollution partly coming from gas-powered cars. China's air quality is so bad in the big cities that China has the largest number of Parkinson's Disease in the world. China must either clean up its air or literally kill all its citizens.
That's why Volvo announced that the future after 2019 will involve either all-electric cars or hybrids. Hybrids can ease the transition to electric cars but the future is definitely no longer gas. If the auto industry plans to shift away from gas, what will happen to the world of gas stations? They'll need to convert to fast-charging electric charging stations instead. Just as you now pay for gas, you'll need to pay for electricity to recharge your car. Whether that will be cheaper than gas won't matter as much as electricity won't be as polluting as car emissions.
(Of course the real question is how will that electricity be generated? If it's done by coal-burning plants that pollute the air, then the savings in air quality from electric cars will need to offset that pollution created by power plants. The difference is that power plant emissions can be relatively isolated while car emissions follow cars wherever they go.)
Look at the ripple effect electric motors will have in the future. The way we drive tomorrow won't look like the way we drive today. Expect too see fewer cars on the road (thanks to ride-sharing services), fewer accidents (thanks to self-driving car technology), and fewer car dealers because fewer people want or will need to own their own car.
This is why Apple, Google, and Tesla are charging ahead in the self-driving technology field because they know it will be profitable. Whether the Apple Car becomes a product or not, the research learning about self-driving technology will prove valuable in itself. If Apple never releases the Apple Car, they'll have the know-how to create an integrated experience for cars that will only benefit them in the future when they further develop CarPlay as an entertainment option in cars.
Apple, Google, and Tesla know the future. Even Blackberry is shifting towards self-driving technology with their real-time operating system, QNX. Strangely, one major company that seems to be ignoring self-driving technology is Microsoft.
Without self-driving technology experience, Microsoft won't be able to benefit from the coming self-driving technology breakthroughs because they won't have any experience working with self-driving technology. Why Microsoft seems to be deliberately avoiding self-driving technology makes little sense since they're searching artificial intelligence and self-driving cars is just another aspect of artificial intelligence and machine learning.
What Microsoft could learn from self-driving cars would directly apply to their research in machine learning for other fields like voice recognition. Avoiding self-driving car technology research is like avoiding the mobile computing market.
Most likely there will be no single winner in the self-driving technology market. The Apple Car isn't going to dominate the market because other companies will be offering roughly equal technology. The real treasure isn't in trying to be the only or best self-driving car company in the world, but in learning what's possible and knowing how to benefit from self-driving car technology.
The future is clear. Volvo can see the short-term future in electric cars. Apple, Google, and Tesla can see the longer future in self-driving technology, but both are right. The people who are wrong are the ones who always say the world won't change and then get surprised when it does.
To read more about Volvo's decisions to sell cars with electric motors after 2019, click here.