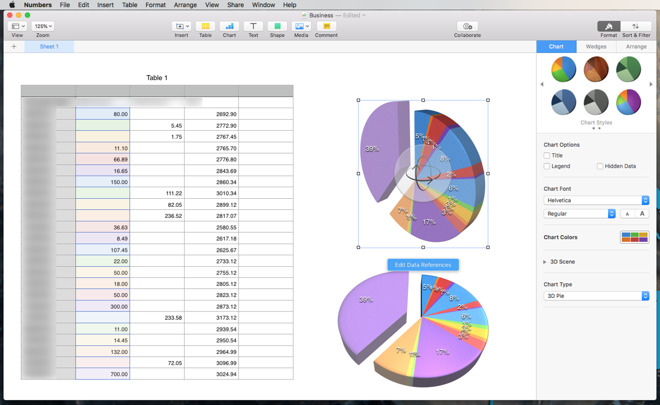 What it is: Numbers is Apple's spreadsheet available as part of the iWork office suite.
Most companies use Microsoft Office, which means you need to edit and create Word, PowerPoint, and Excel documents. For people who need to do this regularly, they might as well use Microsoft Office. For people who don't need Microsoft Office compatibility but still want to use an office suite, they might as well try the free iWork office suite instead.
Hardcore spreadsheet users will always rely on Excel, but although Numbers may not be as powerful as Excel, it can actually be easier to use. One huge advantage of Numbers is that Excel creates an entire screen of rows and columns. When you design a spreadsheet, you wind up with numerous empty rows and columns cluttering up the screen.
Numbers, on the other hand, lets you create spreadsheets only as large as you need them. Then the rest of the screen can be filled with charts or even other spreadsheets. Where Excel forces you to work within the fixed widths of columns, Numbers let you create separate spreadsheets on a single page that can have wildly different column widths.
If you've never used a spreadsheet before and don't need to use one professionally at work, then Numbers can be more than enough. It makes creating and using a spreadsheet simpler than Excel. You can always import and export Excel spreadsheets if necessary, but Numbers will never be an Excel clone.
The bottom line is that if you need Excel, use Excel. If you don't need Excel, try Numbers before buying Excel. With Numbers, you might find a free spreadsheet that's easier to use than Excel.