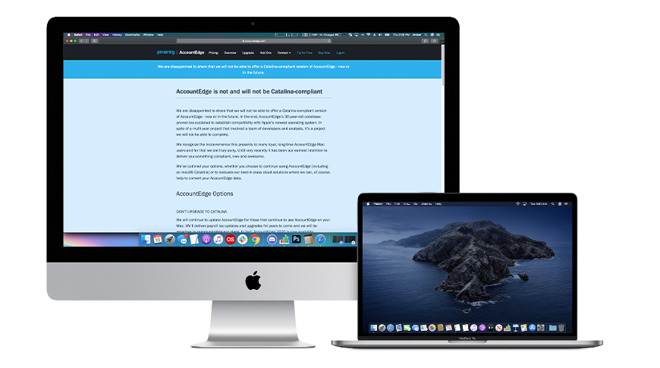 What it is: 32-bit applications will no longer work in macOS Catalina and many software companies are abandoning the Macintosh.
Operating system updates are supposed to be improvements, and in many ways, they are. However, the biggest problem with the latest macOS Catalina update is that it finally abandons support for 32-bit applications. That means older Macintosh programs are most in danger of not making the upgrade to a 64-bit applications since this would require a major rewrite of the software.
Rather than rewrite their software from scratch, many companies are simply abandoning the Macintosh instead. SuperCard, the first HyperCard clone, is based on old 32-bit code and cannot be updated to run on macOS Catalina without a major rewrite.
Since SuperCard is owned by a smaller company, that company can't afford to rewrite their entire program as a 64-bit application. Another company running into this difficulty is Inspiration, which sells an outliner/mind mapping program that has been around for decades.
Like SuperCard, Inspiration is based on old code and the company doesn't see the worth in rewriting their application from scratch. AccountEdge, a small business accounting program, is yet another 32-bit application that the company cannot afford to rewrite as a 64-bit application.
For users dependent on older 32-bit applications, the choice isn't easy. Either avoid upgrading to macOS Catalina (and future updates to macOS), or find an alternative.
As older software fades away, this could be the perfect time for developers to start creating alternatives to SuperCard, Inspiration, AccountEdge, and other 32-bit applications that will never be upgraded to run on macOS Catalina.
Of course, if these older 32-bit applications had a huge market share, the money would be there to justify rewriting the entire program from scratch. The fact that these companies deem it unprofitable to rewrite their programs is a clear signal that there's not much of a market there in the first place.
Once macOS Catalina and future updates kill off 32-bit applications for good, the only ones left will be those capable of running on macOS Catalina. This shakeout of applications is unfortunate but inevitable.
Just remember that with every obstacle there comes an opportunity. It just takes a little bit of creativity to discover what that opportunity might be and whether it's worth your time to grab it.