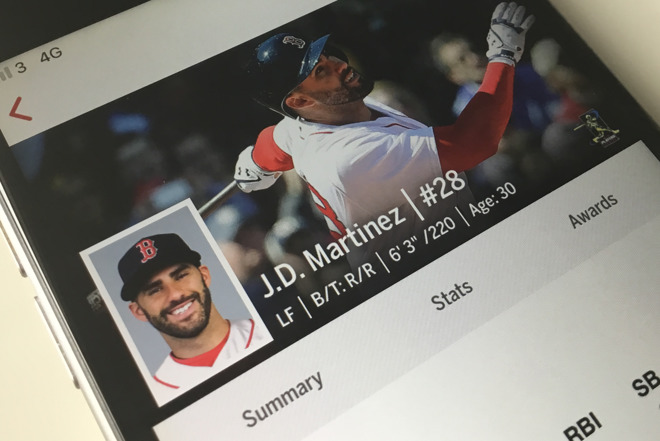 What it is: Boston Red Sox J.D. Martinez uses an iPad to review his batting practice.
When taking batting practice, Boston Red Sox player J.D. Martinez uses his personal iPad to record himself so he can review his movements later. J.D. Martinez said, "I'm not a natural hitter. I'm a trained hitter."
Of course, anyone could use an iPad or any other video recording device to film their batting practice and improve, but many players do not do this and the versatility of the iPad makes it easy to use for multiple tasks. That's essentially the usefulness of the iPad.
An iPad combines the features of several separate items like a computer, a video recorder, and a portable game console into one. While some people may still prefer dedicated devices for their superior performance, the iPad offers convenience that separate devices cannot offer.
In the early days of smart phones, smartphones weren't very good at taking pictures, playing music, or playing games. Then they got better until the iPhone is far superior and more convenient to use than a separate iPod, mobile phone, and digital camera. The same is going to happen with the iPad.
The iPad is getting better as a laptop replacement, but it's not quite there yet. The iPad is better than most separate cameras and better than an iPod. So the iPad is still growing and getting better and more powerful while laptops are not improving at the same rapid rate. Eventually the iPad will become more powerful than a laptop just like the iPhone eventually became more powerful than dedicated cameras, iPods, and Blackberry smartphones.
What J.D. Martinez is doing is nothing special, yet in a way it is. Anyone could do what he's doing. The difference is that most baseball players, even with their careers on the line, will not do what he's doing. Anyone can record themselves without an iPad but an iPad makes it easy to record and view the video afterwards, which dedicated video cameras cannot do as easily.
J.D. Martinez's use of the iPad highlights his own dedication and the iPad's versatility. The lesson is that success is within reach of anyone just as long as they work to improve their skills. You can do that with or without an iPad but in this case, the iPad makes this task easier.
To read more about how J.D. Martinez uses an iPad to improve his hitting, click here.