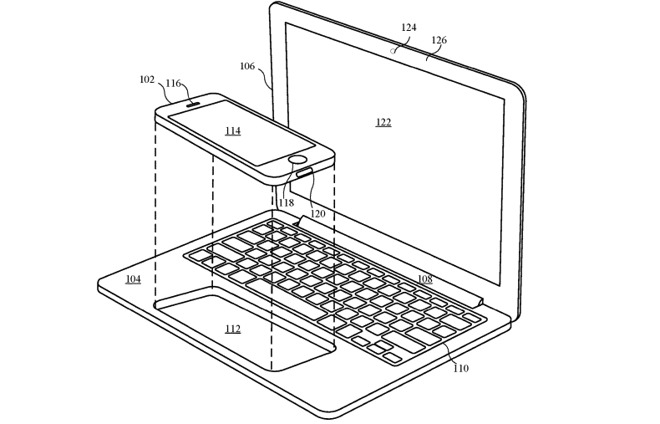 What it is: Apple has patents for using the iPhone and iPad as part of a MacBook laptop.
Many people don't like the idea of carrying around a laptop and an iPad. While Apple hopes you'll use an iPad to replace a laptop, many people still need a laptop. That's why Apple has patented two unusual designs.
The first uses the iPhone as a drop in replacement for a trackpad. Now you can use your iPhone screen as the trackpad and conveniently carry both your laptop and iPhone around. A second patent lets you insert an iPad as the laptop screen. This creates an even more convenient design for carrying an iPad and a laptop together.
Out of these two patents, the most interesting is the iPad/laptop patent. Many people want both a tablet and a laptop, but they don't want to carry both. By combining an iPad with a laptop, you could have the best of both worlds, unlike the Microsoft Surface that excels as a laptop but offers a mediocre tablet experience.
The iPad and Macintosh are merging as a product line although they'll still remain distinct. However, the appeal of a real tablet and a real laptop will likely remain attractive to many. The iPad already has a smart connector on its side that lets you connect it to an optional keyboard. That same connector could be used to connect a laptop to an iPad so the iPad can be used as a screen.
Still, the idea of taking an iPad apart from a laptop remains a clumsy mechanical solution. It might work but it also might just seem like an inelegant kludge. Apple is most certainly experimenting with different designs to see how people react to them, so don't hold your breath. A combination iPad/iPhone/laptop probably won't be coming soon if ever.
To read more about Apple's patents for a combination iOS device/laptop, click here.