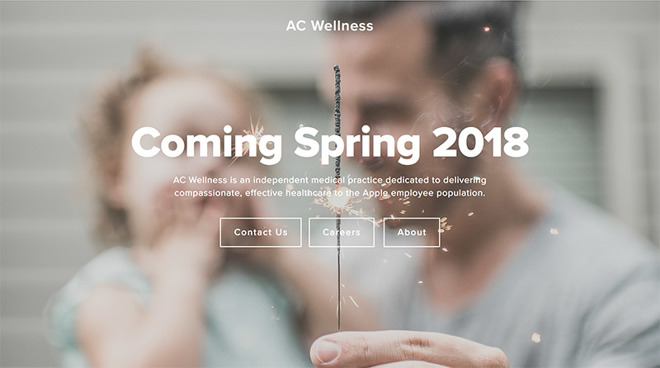 What it is: Apple is running a company called AC Wellness to provide health care to its employees.
There's a saying in the corporate world that "We eat our own dog food." That essentially means that the company uses their own products because what better way to get feedback on what works and what doesn't work than to use their own employees? Yet this simple concept often escapes corporations as they dictate solutions that they never test first.
To get into the growing health care business, Apple is running a company called AC Wellness that will provide health clinics to their own employees. The idea is to create a concierge-like atmosphere for a clinic that focuses on health and wellness rather than dealing with disease and problems after they occur. By testing health procedures and equipment on their own employees, Apple can better learn how to apply new health care practices to the general public.
Health care is such as disjointed mess in the United States that somebody is going to fix this problem and streamline it while gathering profits as a result. Since Apple has a vested interest in the Apple Watch and their frameworks like CareKit and HealthKit, they might as well test their ideas on their own employees to get immediate feedback. Then their own employees can go back and create better hardware or software that meets the needs of actual patients (themselves). This should create a virtuous cycle of constant improvement. Once Apple finalizes the design of AC Wellness, they can offer this company's services to others.
Health care is the new market that wearable computers will tackle. The Apple Watch can track health symptoms in real-time while the iPhone and Macintosh can store and analyze that data later. Companies like Google, Amazon, and Microsoft are venturing into health care services too, but they all lack the crucial hardware needed to monitor health symptoms. This leaves Apple as the prime source of real-time health monitoring as long as they stay focused and don't ignore the Apple Watch, HealthKit, and CareKit.
In the future, expect health care to look radical ally different than what it looks like today, and it could come about thanks to wearable computers like the Apple Watch.
To read more about AC Wellness, click here.