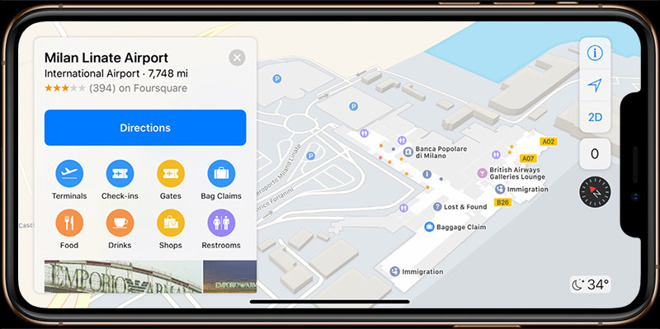 What it is: Apple Maps had a disastrous debut but has gradually been improving over the years.
When Apple introduced Apple Maps in 2012, it was nowhere as good as Google Maps. Yet Apple had little choice but to offer their own mapping app since Google wanted more money to improve Google Maps on iOS while they went ahead and added improvements to Google Maps on Android. Given a choice between being blackmailed by Google or developing their own mapping solution, Apple had little choice but to create their own mapping app.
Initially, Apple Maps fell far short of Google Maps, which only makes sense since Apple Maps was brand new while Google Maps had years to mature and improve over time. Fortunately, Apple Maps has also improved over time, adding transit directions and even indoor walking directions in malls and airport terminals around the world.
While many people still prefer Google Maps, Apple Maps has finally reached a decent and acceptable level of accuracy and reliability. Given enough time, Apple Maps should only continue to improve. Whether it will ever catch up or surpass Google Maps remains to be seen, but the fact is that Apple Maps is now worth using on a regular basis.
Apple Maps is just one more example of Apple avoiding being restricted by a single company. That's why Apple shuns off-the-shelf components in favor of custom parts such as their own A-series processors and graphics processor for the iPhone and iPad.
Apple had to wean themselves off from their dependence on Google for their mapping app. Now other companies are becoming dependent on Apple.
Google pays Apple to insure that Google remains the default search engine in Safari. Qualcomm and Intel are fighting to sell chips to Apple for the iPhone and iPad.
The lesson is clear. Any company is better off without being overly dependent on any other company. If you can't diversify your suppliers, then you better own everything so your suppliers can't blackmail you.
To read more about the gradual improvements in Apple Maps, click here.