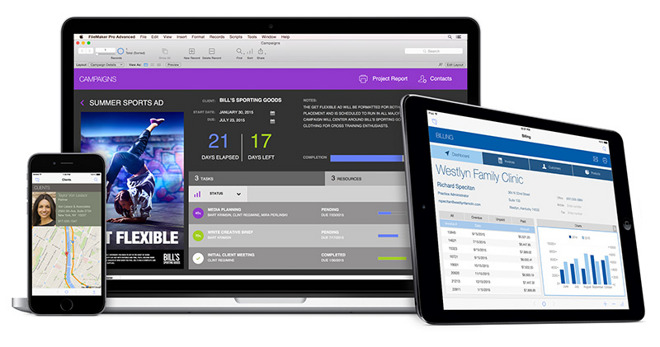 What it is: FileMaker is a cross-platform programmable database available for OS X and now iOS as well.
Databases hold information such as names and addresses. For maximum flexibility, most databases are programmable. As a result, many people use databases to create custom programs for others, or even to sell to the general public.
In the early days of PCs, a programmable database called dBASE ruled the CP/M-80 and MS-DOS worlds. When the world migrated to Windows, dBASE couldn't keep up so the world quickly shifted to rival databases such as Microsoft Access. Although Access remains one of the most popular databases for Windows, Apple's software subsidiary, FileMaker, has long marketed a cross-platform, programmable database called FileMaker.
FileMaker not only lets you create and program databases for Windows and OS X, but now it also lets you create databases for iOS as well. Technically FileMaker isn't meant to create individual iOS apps, but it's possible. Until Apple says otherwise, using FileMaker might be another way to create iOS apps.
The big advantage of FileMaker as an iOS app development tool is that FileMaker isn't as complex as Swift or Objective-C, two programming languages traditionally used to create iOS apps. FileMaker takes care of storing data so you can focus on designing the user interface and creating the code to make the database actually do something useful.
Since many people have developed FileMaker programs for Windows and OS X, they can tweak these programs to make them run on iOS as well. If you're looking for a unique iOS development tool that lets you create Windows, OS X, and iOS apps, take a look at FileMaker. You don't have to be a programmer to use FileMaker but it will help. Even for novices, learning to program FileMaker will still be easier and less frustrating than learning to write code in Swift or Objective-C.
If you're looking to develop an iOS app that heavily relies on storing and retrieving data, FileMaker might be the tool you need to turn your rough ideas into an actual working iOS app. To read more about FileMaker, click here.