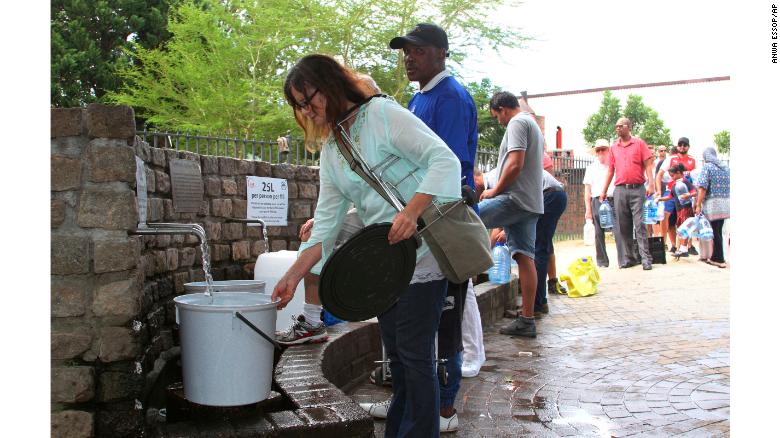 What it is: Cape Town, South Africa is running out of water and has enforced rationing.
The city of Cape Town, South Africa is running out of water and predicts by April, they'll have to shut off the tap water. This day of no water is known was Day Zero, and foreshadows a future where water will be scarce due to climate change. Cape Town's next hope for rainfall will be in July, far too late to resolve the current water crisis. Rationing will only delay the inevitable and solutions like building desalination plants will take too long. The lesson is clear. When there's an impending crisis, the best time to act is before the crisis, not during the crisis.
What will people of Cape Town do? Most likely, many will simply stay put because inertia is the strongest motivator of human behavior. Bye tasing put, these people will simply hope that life will get better and water rationing will go away. While this could happen, placing your future on hope alone essentially condemns you to failure.
A second solution is to find ways to cope with the crisis. Many people are digging wells or buying devices that convert humidity in the air into water. While these solutions can work, they offer only a stopgap solution. The long term problem is that Cape Town is out of water. So if there isn't any water in Cape Town, the logical solution would be to move to somewhere that has more plentiful water.
Of course, most people won't do this due to various commitments they may have in Cape Town such as having a job or owning a house there. Yet the simple fact is that no technological solution can overcome the problem of less water. Nobody's moving to Death Valley although it's possible to build pipelines to bring water there. Rather than live in Death Valley, it's far simpler to live where there's water.
In the technology world, you can see rapid change catches people off guard every time. When Blackberry got killed by the iPhone, the smart solution would be to embrace the iPhone or Android phones. That's easy to see in hindsight but much harder to see when that crisis was happening.
As PC sales decline as people shift to mobile computing, it's easy to see that sticking to PCs is little different than staying in Cape Town. As smartphone growth slows down, it's easy to see that we need to look for the next revolution, which will likely be smart glasses or other wearable computers. Most people wait for disaster to strike before changing. If your'e smart, you change before disaster strikes and avoid it altogether.
To see what happens when you refuse to face reality until it's too late, watch what happens to Cape Town over the next few years. Beyond property values plummeting as people leave, watch for fights over water. With a long-term vision, any problem can be resolved or avoided. With only a short-term vision and refusal to change, no amount of technology can save people who wait too long until a crisis hits.
To read more about the water crisis in Cape Town, South Africa, click here.