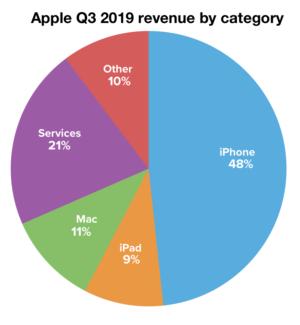 What it is: Analysts keep worrying if slowing smartphone sales will negatively impact Apple, but Apple keeps changing its business mode.
At one time, people updated their smartphones almost every year, fueling the growth of the smartphone market. However, smartphone sales have been slowing down lately, which makes people immediately worry that Apple will be in trouble.
Of course, Apple has always been reliant on a single product for the majority of its revenue, but they've always managed to introduce a new product to make up for the decline.
Initially, Apple survived solely on the Macintosh. Even though the Macintosh never dominated the personal computer market, sales of Macs kept Apple alive.
Yet the Macintosh was never going to take over from cheap PCs, so Apple started making money from their next product, the iPod, which helped fuel the rise of iTunes digital music downloads.
The iPod proved so popular along with iTunes digital music downloads that Apple dominated this market for years. Microsoft even tried to crack this market with the Zune, which flopped despite being a decent product.
Then as smartphones started to appear and replace the need for the iPod, Apple introduced the iPhone, which has now led the bulk of the company's revenue for the past few years.
Now that smartphone sales are slowing, the next business model of Apple will be services. That includes the growing revenue they'll earn from Apple Pay along with the Apple Card and services like Apple Music. Apple is no longer dependent on hardware sales but has switched to services to earn the bulk of their income.
Now it doesn't matter if smartphone sales slow down. Just as long as people continue using iPhones, iPads, the Apple Watch, and the Macintosh, they'll likely tap into Apple's numerous services and continue sending profits towards Apple.
Apple is no longer dependent on the Macintosh any more, just as they're no longer dependent on the iPod or the iPhone. The future of Apple is services for the near future. That will only continue growing whenever Apple introduces their next major product line, which could be augmented reality smart glasses or self-driving cars. Whatever happens, Apple will keep growing and adapting.
To learn more about the changing business model of Apple over the years, click here.