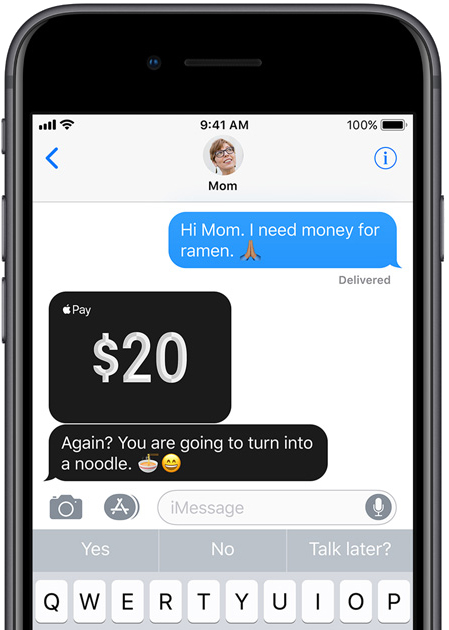 What it is: Apple Pay Cash will be a way to send money to others through an Apple Pay account.
If you want to see the future, look overseas. That's because other countries are often far more advanced in certain areas than others. For years, Japanese people used mobile phones to store and pay for items. In Kenya, people don't have access to banks so they rely on a peer-to-peer payment system called M-Pesa, which lets people send money to the mobile phone users without relying on carrying actual cash.
Kenyans had a choice of carrying large amounts of cash with them (which could be stolen) or using M-Pesa to make secure, simple, and fast transactions using a mobile phone. Third world countries like Kenya adopted mobile phones far faster than so-called advanced countries because Kenya lacked the infrastructure to create landlines. So most of the Third world basically skipped landlines and jumped straight to mobile phones, adopting them at a rate far faster than the Western world that had a landline infrastructure already in place. That's why Kenya is the world leader in mobile phone money transfers.
So Apple Pay Cash is simply a way for the rest of the world to catch up to Kenya. By using Apple Pay Cash, you can send money directly to others. This avoids carrying cash and lets you send money instantly without mailing a check or wiring funds through a bank. Apple Pay Cash will be coming to iOS 11 and watchOS 4, which means you'll be able to ask for cash and receive it through an iPhone, iPad, or Apple Watch.
Apple Pay Cash likely won't change the world but it will help make Apple Pay more popular. Once more people get an Apple Pay account, they'll be more likely to purchase items using Apple Pay. Then Apple will make money on each purchase. Eventually, Apple Pay will earn Apple a sizable chunk of revenue every quarter and help fund Apple's other projects.
That's the difference between Apple and rivals. Most Android device makers can offer Android Pay, but they make nothing off each purchase. That's why Samsung developed Samsung Pay, but they'll never dominate the Android market because not every Android device will be made by Samsung. Samsung Pay will never be as widespread as Apple Pay because Apple Pay works on the Macintosh, iPhone, iPad, and Apple Watch. Samsung Pay can work on Android smartphones and tablets, but not on PCs. Most likely Samsung will want to get Samsung Pay to work on Android Wear as well, but Android Wear's share of the wearable computer market is far less than Apple's share with the Apple Watch. That means Samsung Pay can never hope to equal Apple Pay.
With most rivals shut out from the revenue generated by Android Pay, they won't have the steady revenue stream to allow them to pursue additional research to make better products. While Apple developed faster, more efficient processors, Android device makers are stuck using third-party components. The only Android device maker that can make their own processors is Samsung, which means rival Android device makers will simply fall further and further behind. Eventually, Samsung will be the dominant Android device maker, but that puts them in an uneasy alliance with Google. That's why Samsung tried to make their own Tizen operating system to free themselves from Android, but that will likely never work because most developers won't create Tizen apps and most consumers own't buy a Tizen smartphone until there are enough apps for it.
Apple Pay Cash is the future that follows M-Pesa in the mobile payment market. Paying by mobile phone will soon be common whether you're buying something at a store or sending money to each other. Cash is simply disappearing. Cash is great for anonymity but for convenience, mobile payments are far simpler and easier.
To read more about Apple Pay Cash, click here.