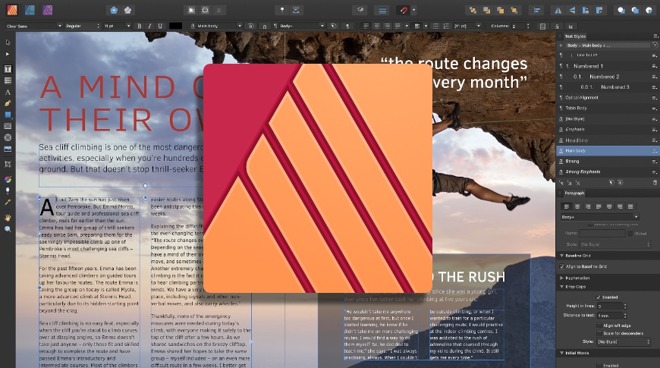 What it is: Affinity Publisher is a low-cost but highly capable desktop publishing program that rivals Adobe InDesign.
Adobe sells some of the best graphics and desktop publishing programs in the world. Unfortunately, Adobe products are also expensive and require a subscription service. For anyone who wants the results that Adobe products can create but without the expense of buying an Adobe subscription, look at Affinity Designer, Affinity Publisher, and Affinity Photo instead.
Affinity Designer is a vector graphics program similar to Illustrator while Affinity Photo is similar to Photoshop and Affinity Publisher is similar to InDesign. Best of all, each program costs around $40-$50 with no ongoing subscription fee. Once you buy it, it's yours to use for as long as you wish without paying any additional fees.
Naturally, if you're already familiar with Adobe products, you may not want to switch to a rival product. However, if cost is a major factor, Affinity's product line can easily replace Adobe's products for all but the most sophisticated users.
One particularly useful feature of Affinity Publisher is its live link option to Affinity Photo and Affinity Designer. This means that if you need to edit a graphic image within Affinity Publisher, you can access Affinity Designer or Affinity Photo right within Affinity Publisher.
With Adobe products, you might be editing a graphic image in InDesign, which would require you to load Illustrator or Photoshop, and then edit that graphic image. Then you'll need to add that edited graphic image back into InDesign again. By eliminating this process, Affinity Publisher makes it easy to edit graphics without leaving your desktop publishing document in Affinity Publisher.
Although Affinity products are much less expensive than Adobe's products, they offer the features most people need, even experienced graphic designers. Before spending money on Adobe, take a close look at Affinity product line to see if they might match your needs instead.
For anyone learning graphics and desktop publishing on a budget, Adobe's products are out of reach so look to Affinity's product line instead. Once you understand the basics of using Affinity's products, you can easily apply those same principles to using Adobe's software if you wish.
The bottom line is that Adobe's software is just too expensive for most people, even professionals. Look at Affinity's products. They may be all that you need after all.