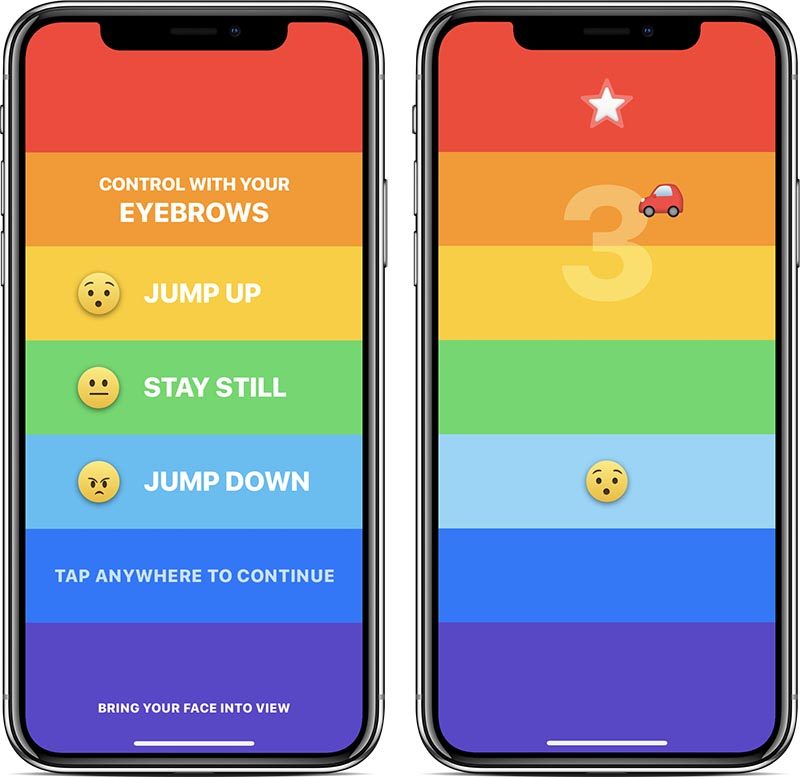 What it is: Washington University computer science graduate Nathan Gitter has released Rainbrow, an eyebrow-controlled arcade game for iPhone X.
The facial recognition features of the iPhone X means that it can analyze your facial features. Now a programmer has developed an arcade game called Rainbow, which lets you control the game completely through manipulating your eyebrows.
While this may seem like a trivial use of facial recognition, it's far more important in that it creates a new type of user interface. With PCs, the user interface required icons and pull-down menus that a user could choose through a keyboard and a mouse. With smartphones and tablets, the user interface displayed menus and icons that a user could tap. The iPhone soon added voice control and 3D Touch that let you hold and press down on the touch screen surface. Now with Rainbow, the user interface has been extended to facial recognition.
This can be crucial for helping the disabled, but it also has uses for hands-free computing, which is what HomePod promises (whenever it arrives). By combining both voice and facial gesture commands, the future user interface will continue moving away from keyboards and mice to more intuitive, natural interfaces. Now you can speak and manipulate your face to control a computer.
Microsoft's Kinect helped pioneer gesture recognition and then Apple acquired PrimeSense, the company that developed the technology behind Kinect. Now Apple is using PrimeSense's technology for facial recognition and gesture recognition.
User interfaces continue to evolve. The Apple Watch helped make touch a two-way interaction. Instead of just tapping a touch screen, Apple Watch users can also receive feedback through the tactic engine that can tell you whether to turn left or right by giving you different types of taps on your wrist.
Combine tactic feedback with voice recognition and facial recognition and the world of computer user interfaces will continue to evolve, first with games and then with more commercial, business related uses, but it almost always starts with a game. Once people see the potential beyond having fun (think of the original SpaceWar video game that demonstrated the potential of cathode-ray tube terminals instead of punch cards to control a computer), they'll soon recognize unique ways to use the latest form of user interaction.
Today you may touch your smartphone and tablet to control it. Tomorrow you may speak to it and gesture with your face or hand around it.
To learn more about using facial gestures to control an iPhone X, click here.