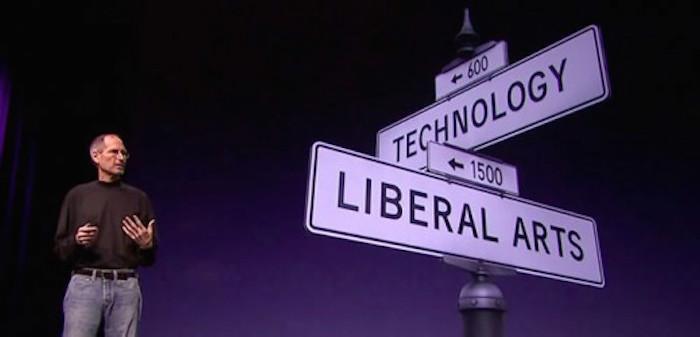 What it is: User experience combines liberal arts with technology by putting the focus on both technology and design, not just technical specifications alone.
Visit any university and you can find people segregated into separate fields of study, yet this artificial division of knowledge makes no sense whatsoever. An English major may study the literature of Lewis Carroll like "Alice in Wonderland," while a math major may study Lewis Carroll's mathematical work.
Of course, Lewis Carroll also used math as a philosophy tool, so philosophy students may study Lewis Carroll's philosophical works while completely ignoring his literature and mathematical work. By studying separate aspects of the same man, each college major only gets a partial understanding of Lewis Carroll while focusing only on their own interests. When you study topics in isolation, you can't help but get incomplete knowledge while fooling yourself that you understand the complete picture.
That's the problem with every aspect of life. Most politicians are lawyers, so they make laws without seeing the consequences of their actions from a social scientist's point of view, or even understanding the topics they're regulating from a scientist's point of view.
In the computer world, you can see how early computers were designed by computer scientists for other computer scientists. The result has been an endless series of complicated computers that are too difficult for most people to use and understand unless you're willing to invest hours of time until you're accepted into the closed ranks of the tech-savvy users.
Such tech-savvy users then protect their hard-earned knowledge by defending the status quo. If computers are hard to use, then the solution is to either pay tech-savvy users more money to act as an interpreter between the user and the computer, or spend countless hours becoming a tech-savvy user yourself. This type of thinking makes as much sense as forcing people to become radiation engineers to use a microwave oven or becoming automotive engineers to drive a car.
You can see the influence on computer products designed from an engineer's point of view. They simply parade a laundry list of technical specifications in front o f bewildered customers and expect confused customers to understand what those technical specifications mean and how they translate into an important feature for the user. When people compare technical specifications, they're only seeing a product from an engineer's point of view, which means they're not getting the complete picture.
What products need to do is appeal to all aspects of a user's needs beyond just technical specifications. Companies need to consider the aesthetic features of a product in addition to the functionality of that product. If a product is just crammed full of technical features, those features may be too difficult to use, which makes them as good as useless. Just think of a typical TV remote control with so many buttons that most people rarely use more than a handful of buttons. The remote control offers dozens of other features, but if you can't use them, they might as well not even exist in the first place.
First, products need to work. Second, products need to make it easy to use. Third, products need to be beautiful.
If a product just works, it may be hard to use. If it's ugly, most people won't want to use it. If a product is easy to use, then more people will find it useful and want to buy it. If a product is also beautiful, then people will not only use it, but they'll be happy to use it. The happier people are to use a product because it meets their needs, the more likely they'll buy from you again.
That's the business philosophy of Apple. Rivals constantly release similar products with more technical specifications, but if those products aren't easy to use and don't make the user happier using it, all those better technical specifications are a waste. Most people use a Macintosh not because it has better technical specifications, but because it makes them happy and it's far easier to use than a more powerful and less expensive Windows PC. Even though a Macintosh typically costs more than a Windows PC with better technical specifications, it doesn't matter if it's harder to use and frustrates people more often than it helps them.
Life isn't divided into separate boxes that can be defined through a laundry list of features. Products only shine when they combine multiple fields of study to present a user with a well-designed product that solves a problem for the user easily. User experience triumphs technical specifications everyday. Apple understands this. Most rivals don't because they're locked into seeing their products only from a technical perspective. Despite winning the technical specification battle with Apple every time, they consistently lose in the user experience and aesthetic appeal every time, and then they wonder why their better technical specifications fail to topple Apple.
Then they repeat the insanity by thinking more technical features must be the answer. When you see the world only through the narrow prism of your own specialty, you'll never see the complete picture. The secret to Apple is plain for everyone to see, but  only if you're willing to look beyond a single discipline and realize that life is more than the limited knowledge of a specific field of study.