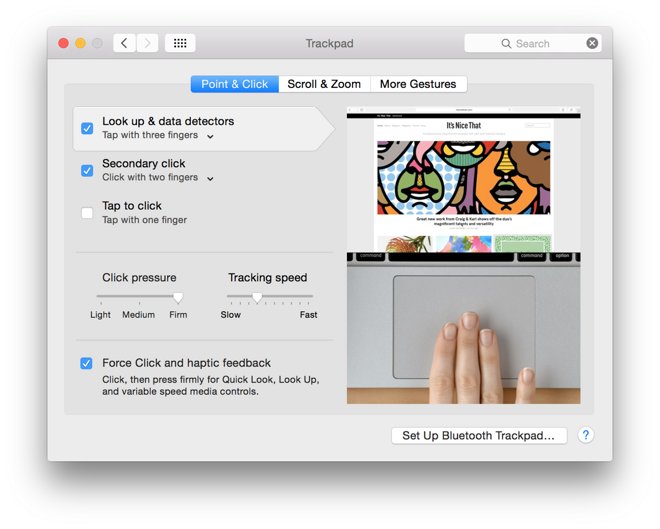 In the old days, people used command-line interfaces and thought that was how you used a computer. Then the Macintosh helped make the graphical user interface and the mouse popular. After many MS-DOS users initially dismissed the mouse and graphical user interface as useless, it quickly became the new standard for how to use a computer.
For decades, that hasn't changed. Although people have substituted a mouse for a trackball or a trackpad, the basic mechanism remains the same. Now Apple has introduced a new way to interact with a computer called Force Touch.
The idea behind Force Touch is to provide tactile feedback when giving commands to the computer. Press hard on a Force Touch trackpad and the computer responds different than if you press lightly in the exact same spot.
For artists, this lets you draw different size strokes based on the pressure you exert on the trackpad. For ordinary users, pressing lightly or strongly on a trackpad can make the computer respond differently. In most cases, a hard press is an urgent request from the user while a much lighter press is likely less urgent.
Force Touch now gives trackpads a new dimension on the user interface. Instead of just manipulating a mouse pointer in two dimensions, a Force Touch trackpad lets the user receive tactile feedback on their actions. Play a game and you can literally feel the differences between pressing softly or forcefully on the trackpad.
What this means is that a whole new wave of software will appear taking advantage of Force Touch interactions. Computers and software that don't respond to tactile pressure will seem as antiquated as command-line interfaces in the age of graphical user interfaces and a mouse.
Force Touch gave the smaller screen of the Apple Watch another way to get feedback, but it will likely be adopted in all newer Macintosh laptops along with newer models of the Magic TrackPad and Magic Mouse. Tactile feedback is now a standard that will soon become commonplace on computers, smartphones, and tablets along with wearables.
It's easy to dismiss Force Touch in much the same way that people initially dismissed the mouse and graphical user interfaces. Just like the mouse and graphical user interfaces, Force Touch will likely become the new standard.
It's not important to get a Force Touch trackpad today, but you'll want it eventually as more programs take advantage of it until it becomes an everyday item. Force Touch is another example of user interface innovation that seems trivial at first, but will become critical in the coming years. Force Touch is the new way to interact with the computer of the future.