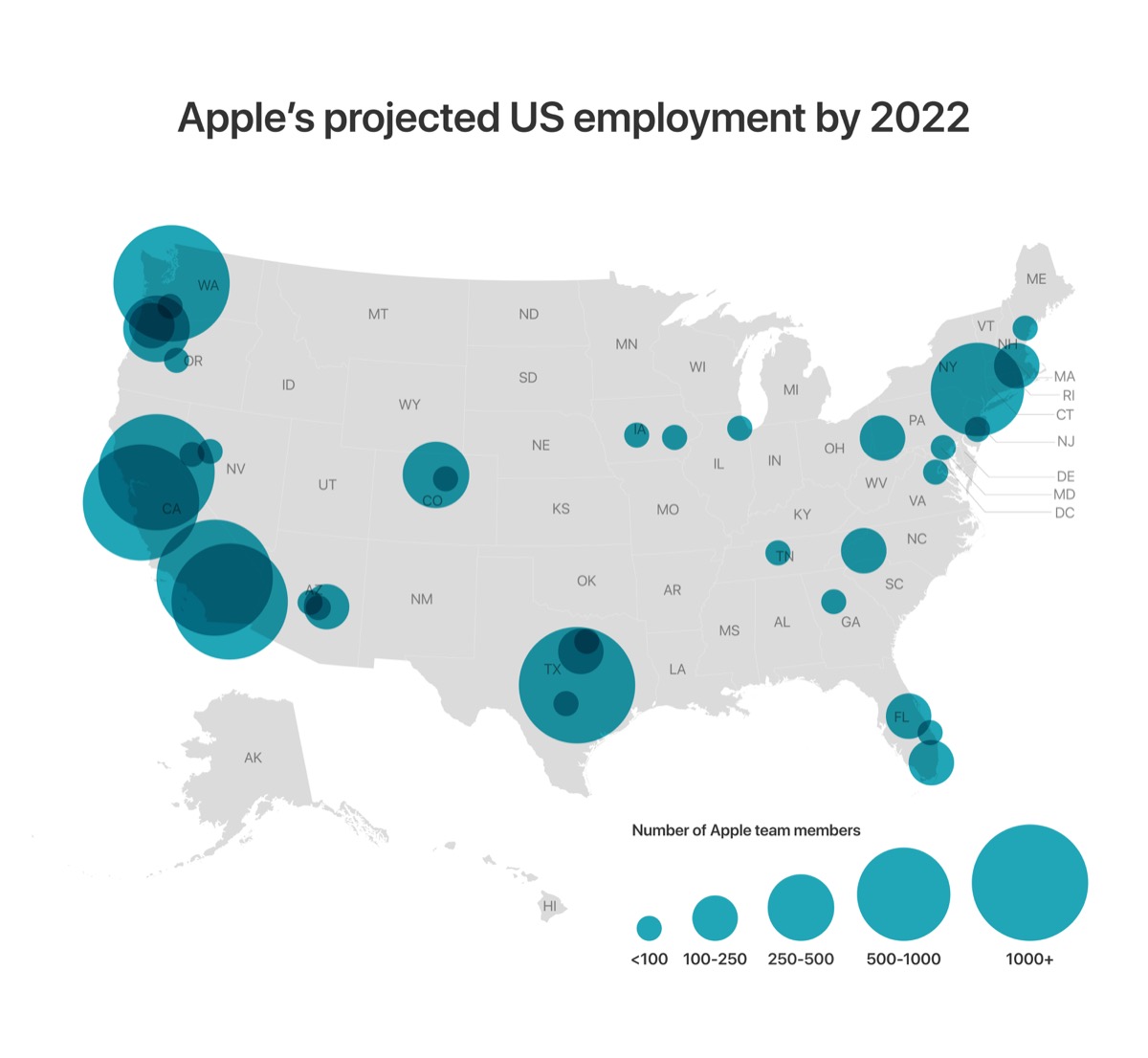 What it is: Apple announced they plan to open offices around the United States.
You may not want a job working for Apple, but you do want to know where Apple is opening offices so you can see where the greatest opportunities lie. Because wherever Apple goes, you can be sure other companies will be there too, and that will just translate into greater job opportunities for anyone who wants to get into the high-tech industry whether as an engineer, programmer, or even public relations, marketing, or sales person.
If you look at the above graphic, you can see where Apple plans to open or expand offices. This is predominantly in the West Coast in cities such as Portland, San Francisco, and San Diego, but it also includes high-tech hubs such as Austin, Texas, Miami, Florida, and the East Coast around Boston and New York.
That's not to say there won't be high-tech jobs elsewhere such as in Michigan, Minnesota, or Virginia. It's just that the greatest number of opportunities will be near where Apple opens offices. If you have a high-tech job in Minnesota, you'll simply have a harder time finding another job in that same area than if you lived in Austin or Boston.
Comedian Woody Allen once said that most of success is simply showing up. So if you want a high-tech job, your best chances are to show up in the cities where Apple plans to open offices. That doesn't mean you necessarily have to work for Apple, but where Apple goes, that's where other companies will go as well.
Job opportunities are everywhere, but may not be where you are. So your choices are simple. Either move to where the job opportunities are or make the best out of your area right now. Either way can work, but it depends on what you want to do.
Generally, the best opportunities won't come to you. You have to go to where they are. For many people, that means moving away but if the other option is to stay where you are and have no opportunities, that's not really much of a choice at all.