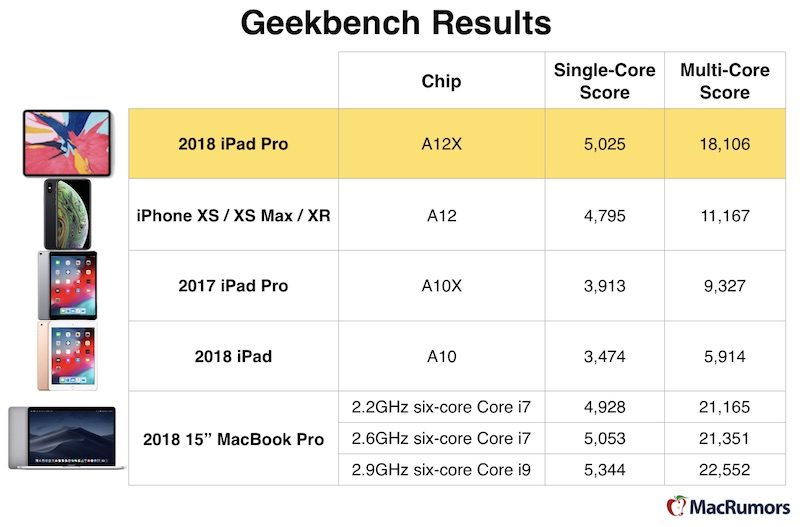 What it is: Benchmarks show that the latest iPad Pro is nearly as fast as the latest MacBook Pro.
The evidence is clear. The iPad is getting more powerful faster than laptops and desktops. The latest Geekbench benchmarks found that the latest iPad Pro runs nearly as fast as the latest MacBook Pro. Keep in mind that the MacBook Pro is a professional laptop and you realize that the iPad is getting close to the MacBook Pro's performance.
Now toss in the fact that Photoshop, AutoCAD, and even gaming companies are porting their console and PC programs to the iPad and pretty soon there will be no difference in power between the iPad and a laptop. If there will be a difference, the iPad will soon be faster, more portable, and less expensive. Given these advantages, why would anyone want a laptop?
Right now people are choosing laptops because they're currently more versatile and powerful than the iPad. Just looking at trends shows that the day will come when the iPad will be far superior to laptops. When that day comes within the next few years, there will be little reason to use a laptop.
Right now, people are wondering if Apple will try to get the Macintosh to run off their own A-series ARM-based processors by porting macOS to ARM processors from Intel processors. That's a pointless discussion because why should Apple waste time developing a new Macintosh when the iPad is already becoming the new Macintosh of the future? Microsoft has already wasted time turning Windows into a table operating system, yet despite their efforts, few people buy a tablet that runs Windows. Most people buy a Windows PC to use as a laptop first with its tablet features being a nice feature but one that most people don't care about. Microsoft is struggling to keep Windows relevant in the mobile computer age. This strategy is working now, but when the iPad starts offering vastly superior performance to a laptop, then the trend will simply shift to the iPad and leave laptops behind except for professional users who need and want the additional versatility of Windows, Linux, or macOS.
Today the iPad is close to matching a laptop. Tomorrow it will exceed it. Beyond tomorrow, it will replace it. The trend is clear and no amount of arguing will change this trend.
To read more about the growing power of the iPad, click here.