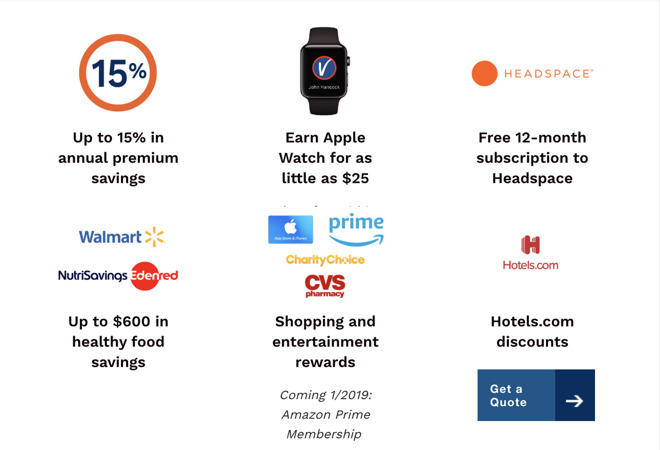 What it is: John Hancock is offering lower life insurance premiums for people who use a wearable computer to track their health.
Insurance companies are in the business of making money and to do that, they need more people to pay in than they pay out. To avoid paying out claims in life insurance, John Hancock is turning to an "interactive life insurance" policy. That means if people exercise and track their health using a wearable computer like an Apple Watch, their life insurance premiums will be lower.
The goal is to keep people healthy as long as possible so John Hancock won't have to pay out life insurance benefits. Yet that shows how the Apple Watch and other wearable computers are proving valuable as real-time health monitors. To encourage people to use a wearable computer, John Hancock offers it as at a discount. The company's goal is purely monetary, but the benefits means Apple Watch and other wearable computer users can stay healthy and enjoy life longer as a result.
For anyone still confused about the purpose of the Apple Watch, think real-time health monitoring. If you're concerned about staying healthy and alive, then you need an Apple Watch. For those critics who don't care about staying healthy or alive, feel free to ignore the benefits of wearable computers and take yourself out of the gene pool prematurely.
The wearable computer market is the next hot market after the mobile market of smartphones and tablets. At Apple's last event on September 12, the company introduced new iPhones but the Apple Watch stole the show. Eventually, more wearable computers such as smart glasses will steal the show too, and the iPhone will just become another commodity like the Macintosh.
The future shifted from traditional PCs to mobile computing, then to wearable computers. The Apple Watch is just the start of wearable computing with smart glasses promising to become the next big product. Hopefully if you use the Apple Watch, you can improve your chances of being alive long enough to see and use Apple's next wearable computer in the next few years.
To read more about how John Hancock is using the Apple Watch as an incentive to lower insurance costs, click here.