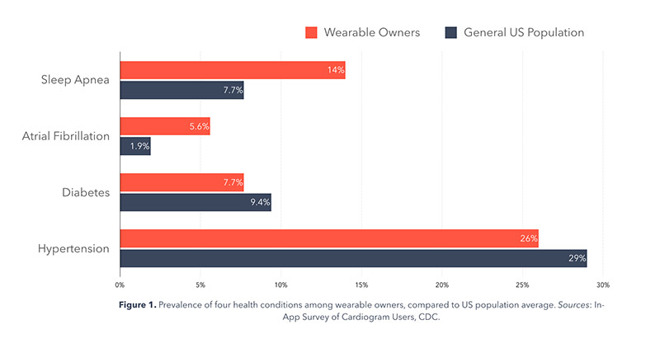 What it is: Users track chronic health issues with wearable computers.
When Apple first released the Apple Watch, many people couldn't see a need for one. Over time, Apple Watch users have found the best uses for their device and that involves real-time health tracking. Because a wearable computer can monitor a user's health without the user's constant interaction, the Apple Watch can easily monitor health symptoms and store this data for analysis.
Using data collected by the popular health app Cardiogram, researchers noticed that a vast majority of real-time health tracking isn't just for improving health such as athletes might need, but for managing and tracking chronic health conditions. In other words, if you currently have a serious health condition, a wearable like the Apple Watch can help you monitor your condition so it doesn't suddenly get worse.
For anyone still confused as to the purpose of the Apple Watch, they just need to protect their health. That's a simple explanation for why someone might want an Apple Watch that anyone can understand. You might not need an Apple Watch to make phone calls (but it can be handy to have a phone strapped to your wrist, especially for the elderly who may fall down). You might not need an Apple Watch to play games, but you might want an Apple Watch to help you monitor your current health conditions so they don't get worse.
Protecting your health and monitoring it in real-time is the main use for the Apple Watch. If you're not interested in your health, then you probably don't need anything else either from medicine and diagnosis machines to wearable computers like the Apple Watch. If you're like most people who do care about your health, the Apple Watch can literally be a life saver.
To read more about the Apple Watch monitoring chronic health conditions, click here.