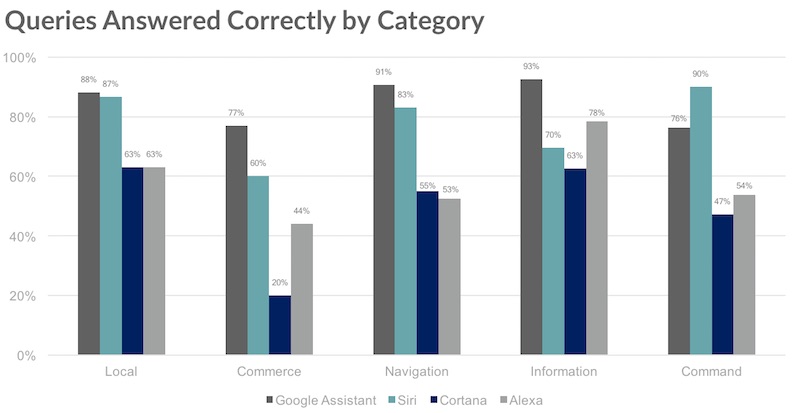 What it is: Siri is slowly improving against rivals like Google Assistant and Alexa.
When Apple introduced Siri, many people thought voice recognition was just a gimmick. For many people, it still is but voice recognition is now becoming an important user interface feature for wearable computers like the Apple Watch and smart speakers like HomePod. Without a screen and keyboard, the easiest way to control an Apple Watch or HomePod is through voice commands.
Unfortunately, Siri defined the smart voice assistant category but quickly lagged behind rivals. Now the latest tests show that while Google Assistant seems most reliable, Siri has dramatically improved. On the other hand, Cortana seems to be the worst and Alexa seems lagging as well.
The big problem with Cortana is that Microsoft lacks a mobile, wearable, and smart speaker product where voice assistants are crucial. So it's probably safe to say that Cortana will continue to be the worst of all the voice assistants.
Alexa dominates the smart speaker category but trails in the wearable and mobile market. Google Assistant dominates the mobile market but lags in the wearable market while doing well in the smart speaker market. Siri dominates the wearable market and it second in the mobile market, but third in the smart speaker market.
All of this means that it's pretty much a three-way race between Google Assistant, Siri, and Alexa. Apple needs to keep improving Siri. While Siri leads in the number of languages it recognizes, Siri needs to get better at responding to questions. Google Assistant and Alexa need to expand their language capabilities beyond a handful of languages.
Ultimately all this competition means that voice assistants will only get better since they'll have to compete against each other. The moment one voice assistant starts to lag, it will fall behind rivals, forcing them to catch up. So if you use Android, you'll likely use Google Assistant. If you use Apple products, you'll use Siri. If you use a low-cost smart speaker, you'll use Alexa. Each voice assistant will likely are out its specialty niche while intruding on its rivals niche. All this is good news for users since this will make the voice assistant category improve rapidly.
One huge advantage Siri may have in the future is the ability to respond to voice commands without the need to connect to the Internet first. Apple is developing an artificial intelligence chip specifically designed to do most of the4 work that rivals use the cloud on the Internet to do. Freeing Siri up from the Internet simply makes Siri more useful in times when an Internet connection may not be available.
One day talking and responding to a computer will seem natural. Now we just have to make sure our computers don't laugh or secretly record our conversations.
To read more about the tests between various voice assistants, click here.