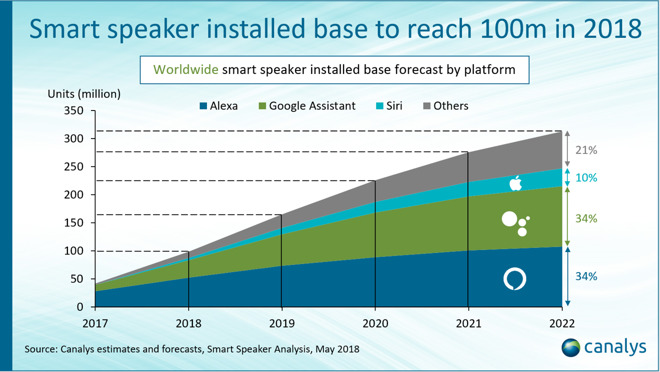 What it is: HomePod has 4% ion the smart speaker market and may reach 10% by 2022.
Before Apple introduced the iPod, there were plenty of portable MP3 players available. What made the iPod so useful was its integration with iTunes, which Apple made available on both PCs and Macs. This made it easy to transfer and organize music on an iPod quickly and easily in ways that other MP3 players did not offer. The iPod may have been late to the portable MP3 player market, but they eventually dominated through the combination of iTunes with an iPod.
Now Apple is late to the smart speaker market with HomePod. Even worse, Apple missed last Christmas by delaying the HomePod and offering the HomePod at a higher price than rival smart speakers. That means Google and Amazon have a huge head start in the smart speaker market. Siri is still considered second-best when compared to Amazon's Alexa or Google's voice assistant. Given HomePod's late start, feeble Siri support, and high price, can the HomePod ever take over the smart speaker market?
The answer is yes, but only if Apple's HomeKit framework becomes more popular. Smart speakers are fine by themselves, but relatively niche products. Talking to your speaker to get the news or weather may be nice, but it's not a necessary feature that most people absolutely need. Beyond voice recognition, smart speakers will only become useful when paired with smart homes, and this is where HomePod has a huge advantage.
Google and Amazon are focusing on getting their smart speakers into homes to control lights, temperatures, or even appliances. The big problem is that only Apple's HomeKit focuses on security to minimize the risk of hackers virtually breaking into a smart home. Think of the difference between Android and iOS where Android is open to the point where malware can easily infect android devices, especially given most people's ignorance of basic security measures. Now imagine needing anti-virus software to keep your smart home from getting infected. That will likely minimize the appeal of a smart home.
First, smart homes need to offer compelling features that existing "dumb" homes do not in the same way that a smartphone is far more useful than a traditional landline phone that's fixed in one place. Second, once smart homes find a compelling feature, people must worry about security. Can hackers listen in and record conversations? Unlock a home? Turn the lights on and off? Getting your smart home hacked won't be as scary as getting your computer data stolen, but it can still be unnerving to know someone can control your home and listen in to your conversations without your knowledge. That alone can make a smart home far less appealing to most people.
A smart home needs a compelling advantage just like a wearable computer offers a huge advantage in tracking health data in real-time, which is simply not possible without a wearable computer. Until a smart home offers such a compelling advantage such as the numerous stories of the Apple Watch saving people's lives by warning them in advance of changes in their health, a smart home will be a niche product and smart speakers will also be niche products.
HomePod may fare better than its rivals, but it will only succeed when smart homes succeed. If that never happens, then expect HomePod to remain a niche product that's interesting but far less useful than Apple might want.
To read more about HomePod's slow growth, click here.