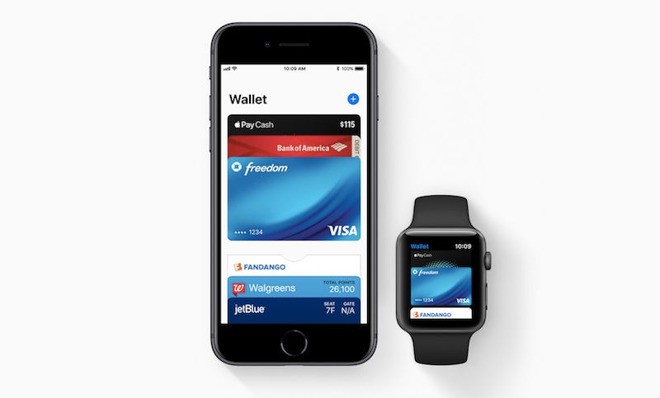 What it is: Juniper Research estimates 225 million people will be using Apple Pay in two years.
While most analysts focus on sales of iPhones to determine Apple's financial health, they tend to ignore Apple's services division that includes iTunes music downloads, Apple Music subscriptions, iBook sales, and Apple Pay. Essentially Apple Pay provides a secure way to use a credit card without giving up your credit card number. This makes it impossible for merchants to store your credit card number where hackers could steal it. For that reason alone, Apple Pay is far superior to using a regular credit card.
Each time you use Apple Pay, Apple gets 0.15% of every transaction. That might not seem like much but the more people use Apple Pay, the more money Apple makes by simply providing a secure way to purchase items using a credit card. Apple Pay is particularly handy for Apple Watch users because you essentially have your wallet with you at all times that you can't easily lose.
For those without an Apple Watch, they can use an iPhone. For online purchases, you can sue Apple Pay on MacBook Pro laptops that include a Touch Bar that can verify your identity with a fingerprint.
Apple Pay has competitors like Google Pay and Samsung Pay, but Samsung Pay is essentially targeting the same market as Google Pay. The goal of Samsung Pay is to tie people to Samsung products much how Apple Pay ties people to Apple products.
Whatever mobile payment system you use, the purpose is to make it easy to pay for items without constantly reaching for your wallet and pulling out a credit card that could be hacked if a merchant stores your credit card number on its computers.
For now, many people don't use Apple Pay because it's far more convenient to use a credit card and many merchants do not support Apple Pay. That trend will gradually change over time, which means Apple will continue making money without having to expend much resources (like building a new iPhone) to do it. Apple Pay may not be the big money making that the iPhone is, but it's certainly a steady and reliable money maker that is practically a Fortune 500 company all by itself.
If you haven't used Apple Pay, try it. It costs nothing to use and offers greater security in return. For that reason alone, you should use Apple Pay instead of a credit card whenever possible.
To read more about the growing number of Apple Pay users, click here.