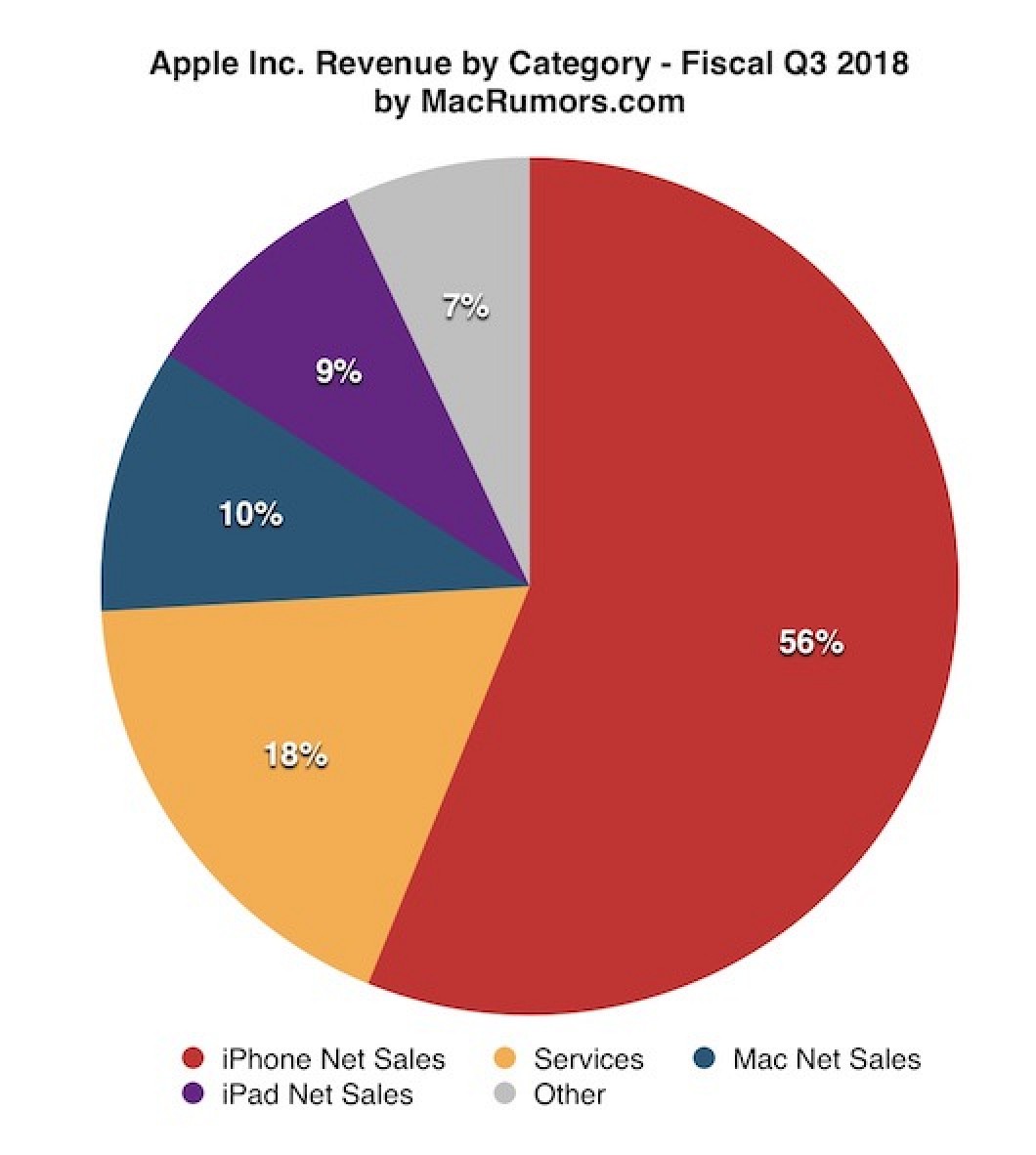 What it is: Apple released financial news about their product line and the iPhone continues to dominate.
Most financial analysts think of Apple has strictly an iPhone company. While hat's not accurate, it is telling that 56% of Apple's revenue comes from the iPhone alone. Second isn't another product but services such as iTunes downloads, iBooks sales, AppleMusic subscriptions, and Apple Pay revenue. Soon that services category will include TV subscriptions as well, which will only grow over time.
Trailing behind the iPhone in revenue are Macintosh and iPad sales. As popular as the iPad might be, it's never going to challenge the iPhone where people upgrade to a new model every two years. On the other hand, iPad users tend to hold on to their devices for far longer. Macintosh users also hold on to their devices for years, but Apple's recent lack of updates for Macintosh models have likely hurt sales. Why would anyone buy ancient technology like the Mac mini unless they absolutely needed it? Walk into any Apple Store and you'll find that the Mac mini is hard to find, let alone buy.
Put iPhone and iPad sales together and you have the true mobile market that Apple dominates. Despite not dominating the smartphone market, Apple sells plenty of iPhones and does dominate the tablet market. So what does all this mean for Apple in the future?
Unless Apple fails to update their products, they'll likely see steady growth. Apple can't fail to innovate with the iPhone because people expect a new model every year. Apple has failed to innovate in the Macintosh market because people don't expect a new model every year, although Apple should at least keep up with the latest changes.
Although it's easy to fault Apple for failing to update the Macintosh, part of the reason is Intel's own problems updating their processors. The early MacBook Pro could only use a maximum of 16Gb of RAM because Intel's processors could only handle 16Gb of RAM. Apple is increasingly dependent on other company's technology and that's causing a delay.
Notice that Apple controls almost everything in the iPhone including the all-important processor and now the graphics processor. Intel's delays are likely pushing Apple to create their own processors, and that's likely why Apple has delayed updating the Macintosh lineup for so long. It's not that Apple isn't capable of updating their models. It's more likely this is their Plan B because their Plan A is to shift the Macintosh to their own technology, but that technology isn't ready.
The future of Apple is the mobile market of smartphones and tablets. Augmented reality and wearables like the Apple Watch are future growth products that will supplement revenue from the Macintosh. What's clear is that the Macintosh is not Apple's focus. The Macintosh is never going to replace PCs despite the gradual shift in acceptance in the corporate world for the Macintosh. Apple knows they've lost the PC market. They also know they've defined the mobile market and they're busy defining the wearable market.
If you want to see the future of Apple, look at the mobile and wearable market. The Apple Watch and future smart glasses are the real future of Apple.
To read more about Apple's latest financial news, click here.