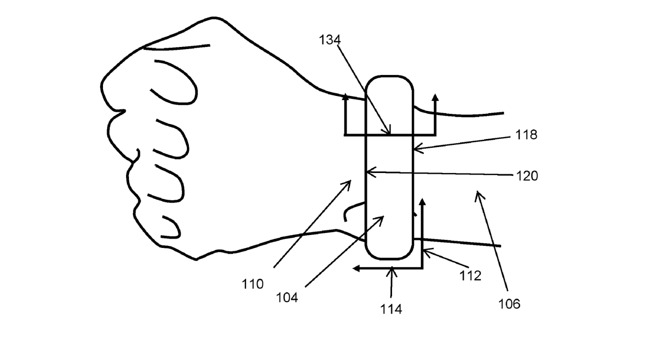 What it is: Apple recently patented a blood pressure measurement device.
Real-time health monitoring is the killer app for wearable computers like the Apple Watch. In their latest push towards monitoring health, apple recently patented a blood pressure measurement device that looks suspiciously like an accessory for the Apple Watch.
Right now the Apple Watch comes with a limited number of built-in sensors, but Apple can't add too many more sensors for two reasons. First, there's not enough physical space on an Apple Watch. Second, the government needs to regulate medical devices, which risks slowing down innovation so they can test each product and approve it. The end result is that Apple can only put general purpose health sensors on the Apple Watch, which means any additional sensors, such as a blood pressure measurement device, will likely come from smart bands.
Right now, the Apple Watch can wrap around your wrist using a variety of bands, but all of them serve no other purpose than to keep the Apple Watch on your arm. Make that band smart by adding sensors and suddenly you've expanded the capability of the Apple Watch and customized it for specific types of uses. One person might be interested in monitoring their blood pressure while another might be interested in measuring their glucose levels. That would mean offering different types of smart bands for different users.
The Apple Watch won't just be a toy but a real-time health monitoring tool designed to track your health symptoms every second. This can provide you with health data or other people such as doctors or researchers. Researchers might be interested in tracking your data to study while doctors may be interested in tracking your data to help keep you in optimum health.
Ultimately, the Apple Watch will be a real-time health monitor. As its value becomes clear to everyone, there won't be a reason not to own an Apple Watch, unless, of course, you don't care about your health any more.
To read more about Apple's latest patent for measuring blood pressure, click here.