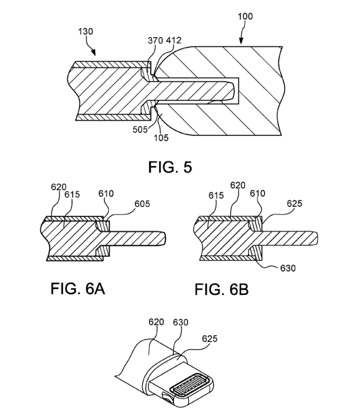 What it is: Apple filed a patent for a device to make ports more water resistant.
One of the fastest ways to ruin a smartphone is to drop it in water. That's why the latest smartphones are water resistant. However, the weakest part of any smartphone's design are its ports for plugging in audio jacks or power cords. Since these ports must be exposed, they offer the simplest way for water to seep inside a smartphone and ruin the internal components.
To reduce this problem, Apple recently filed a patent for making ports more water resistant when a cord is plugged into them. The cord mates with the smartphone port to seal the outside, resisting water. Of course, this sealing port only works when a plug is inserted into the port. When the port is open and exposed, it must still resist water on its own as well.
The ultimate goal is to avoid ports altogether. That means you can expect a future iPhone to be completely wireless, allowing you to charge your device wirelessly and connect to speakers or headphones wirelessly. That's one reason why Apple dumped the traditional audio jack and why Apple will eventually dump the Lightning connector as well. Ports are the weak point for water and dirt to get inside a smartphone so by eliminating ports altogether, Apple (or any other manufacturer) can make a device that's truly water resistant or maybe even water proof.
Keeping your device free from water and dust may not be easy, but it is necessary. Water proof iPhones may not be coming soon but they are coming eventually. Making water resistant ports is one step in that direction but eliminating ports completely is the ultimately goal. To create a truly water proof iPhone, Apple will need to perfect wireless charging. Until that happens, expect ports to be a part of every smartphone until wireless charging becomes fast, simple, and common.
To read more about Apple's latest patent for water resistant ports, click here.