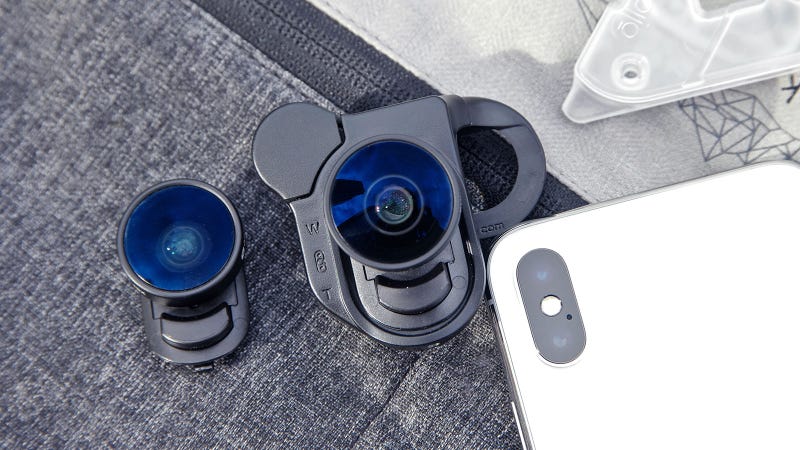 What it is: Olloclip offers clip-on lenses for the iPhone.
The built-in camera of the iPhone has improved drastically over the years to the point where many professional photographers use the iPhone as their main camera. Of course, dedicated digital cameras will always capture better pictures than the iPhone but that's because dedicated cameras always have more space for changing lenses. The drawback is that you must lug around a bulky dedicated camera whenever you want to take pictures.
Still, the iPhone camera is better than dedicated cameras of the past. Even though dedicated cameras will always have the size advantage over the iPhone to provide better quality lenses, for many people the iPhone camera is good enough, even for professional photographers. Now for those who need to improve the quality of their pictures even more captured by an iPhone, there's the Olloclip add-on that clamps on to an iPhone and adds additional lenses.
The iPhone combined with the Olloclip can now capture images that rival those captured by dedicated cameras. The huge difference is that the Olloclip and the iPhone are far more convenient to carry than a dedicated camera. If you insist on lugging a dedicated camera around, you'll gain a trivial amount of additional quality. So ultimately the question is whether a dedicated camera is even worth it any  more?
If professional photographers can use an iPhone camera without any additional lenses at all, think of what major quality difference the Olloclip and the iPhone can give professional and amateur photographers. The iPhone camera is like having an older dedicated camera in your hand. Add the Olloclip accessory and you now have the power of a dedicated camera in the smaller size of an iPhone.
Dedicated cameras still have their place, but that place is rapidly shrinking. If you demand higher quality photographs, then consider getting an Olloclip with your iPhone. Then again, you may be able to get along with just the iPhone alone.