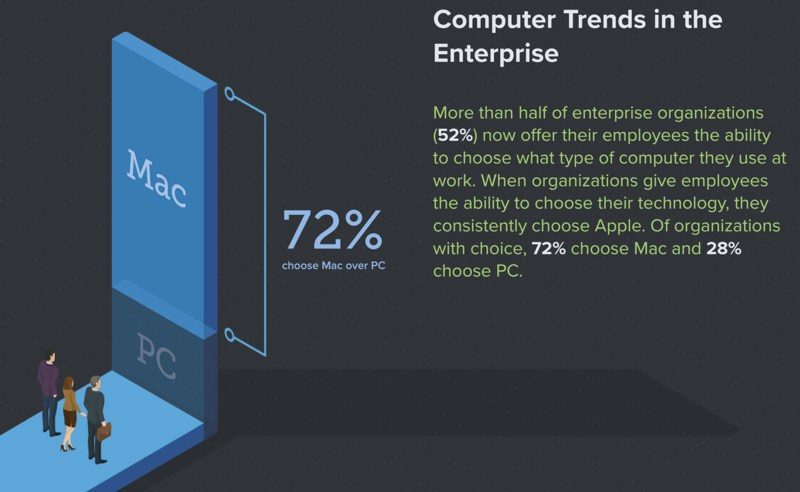 What it is: When companies give employees a choice of devices to use, most choose Apple products.
In the old days, IT departments used to dictate the equipment workers could use. Typically that meant Blackberry mobile phones and PCs running Windows. The goal behind such standardization was simply to make life easier for the IT department, regardless of what other departments really needed. This essentially was like having the tail wag the dog.
When the iPhone appeared, people started demanding iPhones. Once people got used to the simplicity and reliability of the iPhone, they started gravitating towards the Macintosh as well. Now the latest survey shows that when given a choice, a large number of workers prefer using a Macintosh over a Windows PC and an iPhone over an Android smartphone.
Smart companies know that by making workers happy, they'll get more productivity out of those workers and attract and keep workers. While Windows PCs still dominate the enterprise, the steady growth of the Macintosh means that more people are becoming familiar and comfortable using the Macintosh as well. At one time, the future was anything related to Microsoft. Today, the future is anything related to Apple, Google, and Amazon. Microsoft is becoming an afterthought.
Microsoft will still be around. They just won't be as influential and dominant as they once were. So if you want to increase your chance of success in the corporate world, don't focus solely on Microsoft or Windows. Broaden your skills to understand iOS, macOS, Linux, and Android. That's just the future. To see what happens to people who don't follow the future, just look at all those people who once insisted mainframes and minicomputers would always be dominant. That's the future of people who still insist that Windows will always be dominant.
To read more about the growing appeal of Apple products in the enterprise market, click here.