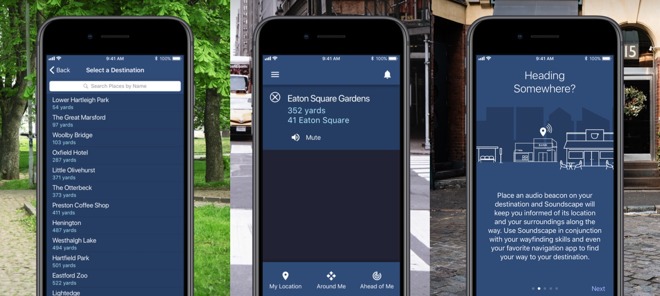 What it is: Microsoft released a free Soundscape app for the iPhone to help visually impaired users navigate their surroundings.
Technology consists of platforms and applications. In the past, Windows was the major platform and everyone wrote applications or developed hardware to support the Windows platform. Nowadays, many people are supporting the iOS platform that runs the iPhone and iPad.
One unique feature of iOS is that it's designed to help disabled people use it without the need for expensive add-on hardware. In the past, disabled people had to buy expensive and bulky devices just to use a PC. Nowadays with iOS, many features can be modified so disabled people an use an iPhone or iPad just like anyone else.
To further aid iOS users, Microsoft has released a free app called Soundscape. The idea behind Soundscape is to allow visually impaired users to navigate their surroundings use the iPhone. By listening to audio cues through headphones, visually impaired users can track where their destination is in relation to their current position on their journey along with hearing crucial information such as the location fo roads and intersections.
Such useful apps for the visually impaired simply makes the iPhone more useful for the visually impaired. While visually impaired people have used an iPhone without add-ons like Soundscape in the past, Soundscape simply makes the iPhone more useful for anyone if they wish to use Soundscape's features.
Soundscape is proof that Microsoft can still innovate even if they've lost their dominance in the computer industry by clinging to the Windows platform for so long. As a software developer, Microsoft needs to focus on the latest platforms involving iOS, Android, macOS, Linux, and Windows. It's no longer a Windows world so that should actually open up more opportunities for Microsoft as well as for everyone else.
To learn more about Soundscape, click here.