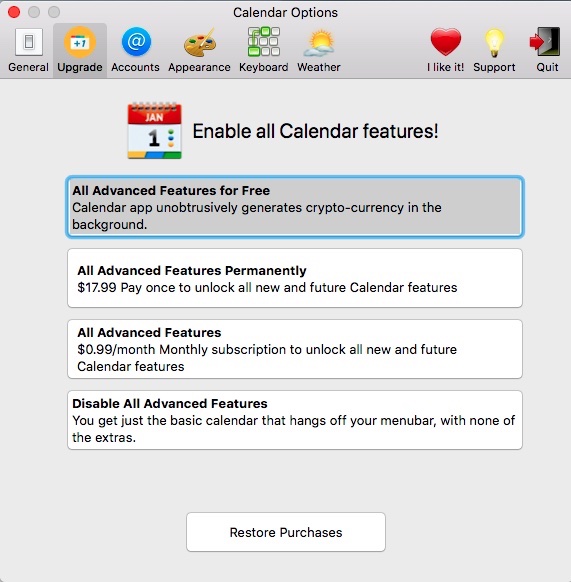 What it is: Apple inadvertently approved of a Calendar program for the Macintosh that mines cryptocurrency in the background.
In the old days, hackers wrote malware that would wreck the user's computer or files. Then they started finding ways to profit off malware by popping ads on the screen to force you to click them and give the hacker money through the ad network. Now the latest money-making tactic is cryptocurrency mining.
The idea behind cryptocurrency mining is that computers use their processing power to solve mathematical problems. The first computer that solves this problem correctly gets rewarded with cryptocurrency. So hackers are boobytrapping malware with cryptocurrency features to exploit infected computers to mine cryptocurrencies. The more computers malware infects, the greater the chance the malware will earn the hacker cryptocurrency.
What makes the latest news troublesome is that Apple approved of a Calendar program that blatantly promotes the fact that it will use the user's Macintosh to mine cryptocurrency in the background. This wastes your computer's processing power that could be better served for your own purposes.
This simply shows the flaws of Apple's App Store. While Apple must approve of all apps, they have made two mistakes in the past. First, they black certain programs for no good reason. Second, they allow malicious programs to slip through. In either case, Apple cannot be 100% accurate, but the less accurate they are, the more their App Store will suffer in reputation.
In the case of this calendar program that openly mines cryptocurrency, this might seem like a small price to pay but most users won't realize how such cryptocurrency mining could affect their own computer's speed or responsiveness. Since the average user won't know about the negative aspects of cryptocurrency mining, it's up to Apple to block apps like these that take over a user's computer without their knowledge. Apple is simply failing to do their job because their job requires 100% accuracy at all times.
The Mac App Store is particularly pitiful compared to the iOS App Store, which attracts far more users. The Mac App Store is a decent idea but with Apple taking a 30% cut of all profits, it's not a very profitable one for software publishers when they can just sell their programs directly to users instead. The iOS App Store is far moe useful because no iOS user can install software unless it comes form the App Store, so that gives Apple more control and power than they have over the Mac App Store.
The Mac App Store will likely forever be doomed to mediocrity. Partially it's because the Macintosh already has a familiar way to buy and install software, and partially because the Macintosh has far fewer users than iOS. That means Apple will put more emphasis on the iOS App Store and far less resources on the Mac App Store.
The Macintosh is still an important product line, but eventually Apple will transition away from the Macintosh and fully embrace iOS. It won't happen any time soon, but it will happen, and that means the Mac App Store will likely never be equal to the iOS App Store. In either case, Apple needs to protect users from cryptocurrency miners whether that software is disguised as malware or whether that software is openly promoted.
If you find your Macintosh seems to be working harder for no reason, you could have a cryptocurrency mining secretly using your Macintosh's processor. Cryptocurrency mining won't hurt your Macintosh, but it will siphon off its power to help an unseen hacker profit off your computer. Unless you don't mind strangers profiting off your computer, watching out for cryptocurrency miners is now the new problem to watch out for along with viruses, Trojan horses, and ransomware.
To read more about the cryptocurrency miner hidden in a macintosh program, click here.