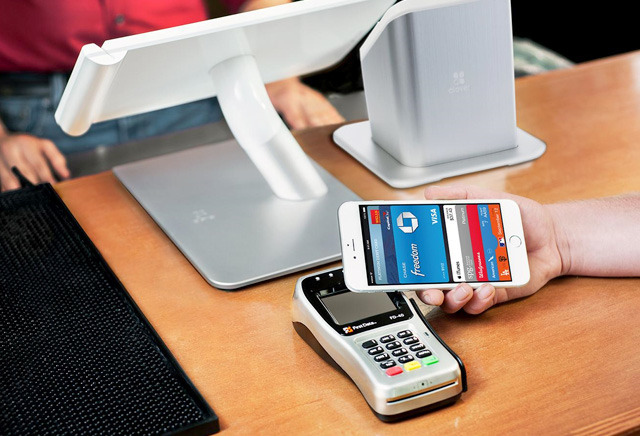 What it is: Apple Pay is now used by 16 percent of iPhone owners.
Apple Pay is a fast and secure way to pay by credit card without giving up your credit card number. In traditional credit card readers that rely on a swipe or even a chip, each purchase you make gives the retailer your credit card number. This is why hackers target large retailers like Target and Home Depot because they know those companies store large amounts of credit card numbers and likely have poor security to protect it.
With Apple Pay, your credit card number remains securely hidden from the retailer. This lets you purchase products safely without ever worrying about giving away your credit card number to retailers who will become targets of hackers in the future.
The big problem with Apple Pay is that not all merchants who accept credit cards accept Apple Pay. Another drawback is that Apple Pay is unfamiliar to many people. Using Apple Pay with an iPhone requires pulling out your iPhone and remembering the steps to access Apple Pay. The Apple Watch is convenient for using Apple Pay but you must still figure out the steps to using Apple Pay. For many people, these minor steps and learning curve are less convenient than simply using a credit card instead.
That's why only 16 percent of iPhone users use Apple Pay. Security isn't a huge incentive so Apple needs to encourage more people to use Apple Pay through a rewards program like most credit card companies offer such as frequent flyer miles on airlines or cash back after a fixed amount of purchases. Apple Pay is far more secure than giving your credit card number to every merchant you visit, so take some time today to learn how to use Apple Pay. That way when you're in a store with a line of other customers behind you, you won't feel self-conscious trying to figure out Apple Pay on your iPhone or Apple Watch.
Apple Pay is a safer way to pay by credit card and it won't cost you anything extra in return for greater security. Now if only more people understood this, they would find a reason to use Apple Pay just for the added security alone.
To read more about Apple Pay's slow growth, click here.