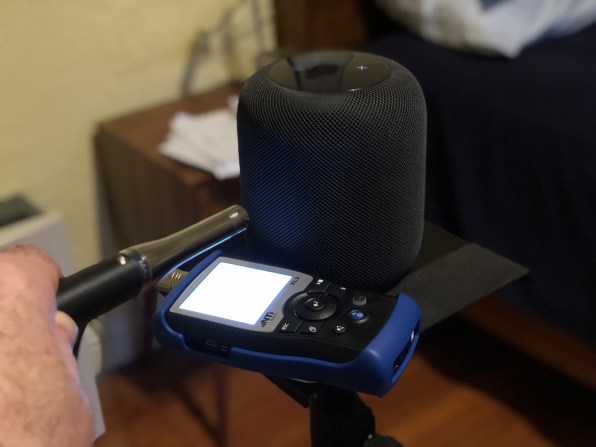 What it is: HomePod is getting rave reviews for its audio quality no matter where it's placed in a room.
What's the difference between a smart device and a dumb one? Until you see a smart device, you don't realize how dumb the dumb device really is. Look at older Blackberry and Nokia "smart" phones and you'll see that they pale in comparison to the features offered by the iPhone. Now people can't imagine going back to those older Blackberry and Nokia phones because they've seen how a smartphone really should work.
The same is happening to speakers. Ordinary speakers offer varying levels of audio quality based on their components, but when you place them near a wall, near furniture, or in the middle of the room, their audio quality changes based on their surroundings. A smart speaker knows how to adjust to its surroundings and provide the same audio quality no matter what it's location. that's the real "smart" of a smart speaker like HomePod.
Now that HomePod has defined what a smart speaker should be like, all other speakers will pale in comparison. Amazon's Echo may be cheaper but it won't sound as good, so if you value audio quality, you'll want a HomePod over an Amazon Echo. If you just want a cheap, portable speaker, the Amazon Echo will be just fine.
The second part of a smart speaker involves its ability to a accept voice commands. In this regard, HomePod's Siri falls short of Amazon's Alexa so that means Apple has some catching up to do. The question is whether Amazon's Alexa can maintain its lead and whether Amazon wants to tackle the high-end smart speaker market with a smarter speaker that provides superior audio quality no matter what it's position in a room.
Smart speakers of tomorrow will need to adjust to its surroundings and provide hands-free computing through voice commands. HomePod excels in audio quality but lags in voice commands. Amazon's Echo excels in voice commands and price, but lags behind in audio quality. That means some people will buy an Amazon Echo for its price just as some people opt for an Android phone over an iPhone.
Most likely, HomePod will never sell as many units as Amazon, but HomePod will likely capture the larger profit share than Amazon because Amazon relies on volume to sell their Echo devices as a gateway to buying items on Amazon itself. HomePod makes money per unit and acts as a gateway to Apple Music.
In the end, Amazon Echo will likely win the market share but lag in profitability compared to HomePod. All HomePod has to do is make Siri smarter will links to the future smart home through HomeKit, and you'll see HomePod gradually dominating the market while low cost rivals battle for the low-end market like Android in the smartphone category. HomePod has a bright future. It's present just isn't where it needs to be just yet unless you demand high audio quality.
To read more about HomePod's audio quality, click here.