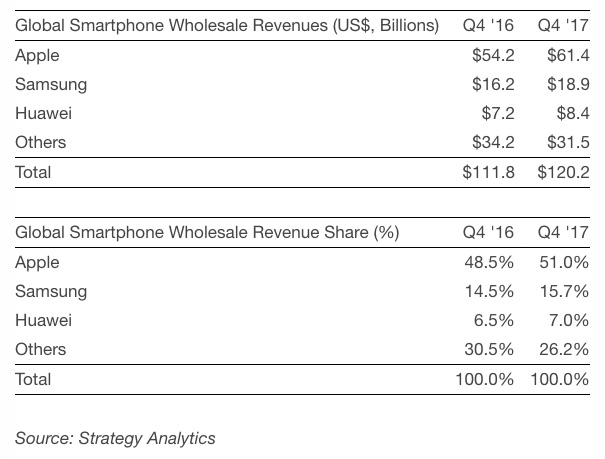 What it is: With the release of the iPhone X, Apple has more than 51% of the total revenue generated by smartphone sales.
Competing against Apple is a tough battle. It doesn't matter how many Android devices other manufacturers flood the market because the profits generated by Android devices is minuscule compared to the profits generated by Apple's iPhone. Apple takes in more than 90% of the profits from the smartphone market and now Apple has captured 51% of the smartphone revenue as well.
That means if you're trying to compete against the iPhone, you have few choices. One, you can flood the market with low-cost devices and make a minuscule profit on volume. While this tactic works, it's also a lot of effort to make a small amount of money. That's also risky because many Android device makers lose money selling Android devices. It make no sense to lose money selling products.
The second approach is to slavishly copy Apple and introduce iPhone clones. When Apple introduced the silly notch on the iPhone X, critics derided it as a kludge. Now many Android device makers are planning to offer a similar notch on their own smartphones. So if the notch is poor design on the iPhone X, how is the same type of notch suddenly acceptable on Android devices?
The toughest part about Android is that all of these smartphone manufacturers are unofficial working for Google. Google makes the operating system and other companies make the devices that run Android. That means other companies take the risks and hassle of selling devices and often selling them at a loss. The only company that truly benefits from Android is Google. Everyone else has to scramble just to eek out a tiny profit.
Samsung is the only company that makes a profit on smartphones and tablets, but their profits are far smaller than Apple's profits on the iPhone. As Apple increases their profit share and slowly increases their revenue share, how much longer can Android device makers survive? Samsung tried to free themselves from dependence on Android by creating their own Tizen operating system, but why would anyone want to use Tizen that offers a small number of apps when they can just buy an Android smartphone that offers thousands of apps? That effectively kills any chance that Tizen can help Samsung free themselves from Android.
Android device makers are stuck in a losing market with no hope in sight. Most likely they'll continue losing money for the benefit of Google and continue chasing Apple by slavishly copying everything including flaws like the notch design of the iPhone X. When you see Android device makers lacking imagination, you can see why they also lack profits as well.
To read more about Apple's dominance in the smartphone market, click here.