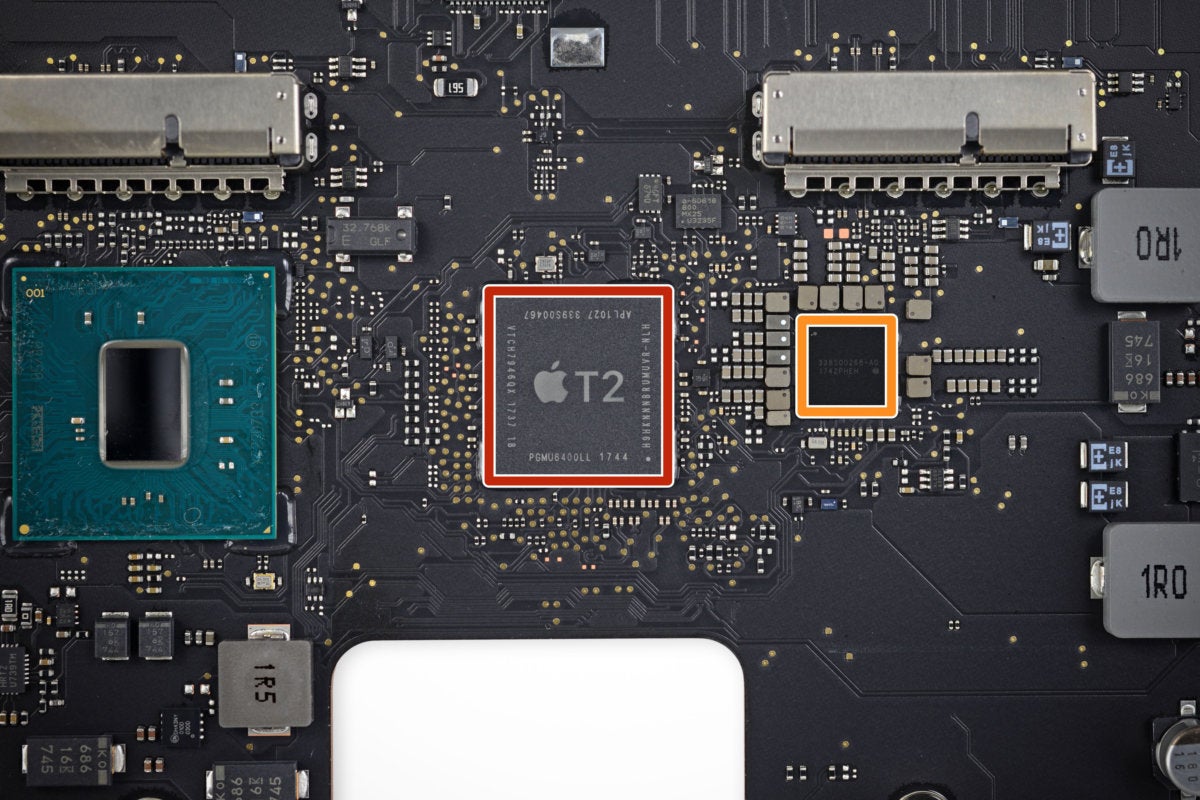 What it is: The iMac Pro includes an Apple designed T2 processor designed to control subsystems.
The iMac Pro represents the future. Beyond the power that will eventually filter down to ordinary Macintosh models for consumers, the iMac Pro includes a T2 processor to complement the Intel Xeon processors inside. While the Intel processors handle the heavy duty processing, the T2 chip handles audio, system management and disk drives. When you tore a file on an iMac Pro, the T2 processor takes care of encrypting that data so the Intel processors don't have to.
In ordinary Macintosh models, there are separate controllers for audio, system management, and disk drives. By letting the T2 processor handle these tasks, the iMac Pro can run more efficiently. That translates into faster performance.
When this T2 processor migrates to consumer-level Macintosh models, that means the Macintosh will no longer be equal to a PC with similar components. Instead, the Macintosh with a T2 processor will be optimized to run more efficiently. So an equivalent PC with identical parts as a Macintosh won't run as fast, which will give the Macintosh a further edge against Windows PCs.
Currently, people choose a Macintosh because it's less troublesome and more reliable. In the future, people will also choose a Macintosh because it runs faster and more efficiently compared to equivalent PCs.
The T2 processor is simply Apple's way of making the Macintosh better in a way that rivals can't easily copy. Rivals can easily buy the some components as a Macintosh, but with Apple's proprietary T2 processor, they can never create a PC that's equivalent to an iMac Pro without additional costs. As the T2 processor migrates down to ordinary Macintosh models, the Macintosh will further differentiate itself from run of the mill Windows PCs.
The T2 processor isn't a major game changer, but it's just another example of Apple subtly improving their products in ways that rivals can't imitate easily. As the Macintosh grows in acceptance, expect more people to migrate from Windows to the Macintosh because now they'll have yet another reason to do so.
To read more about the T2 processor in the iMac Pro, click here.