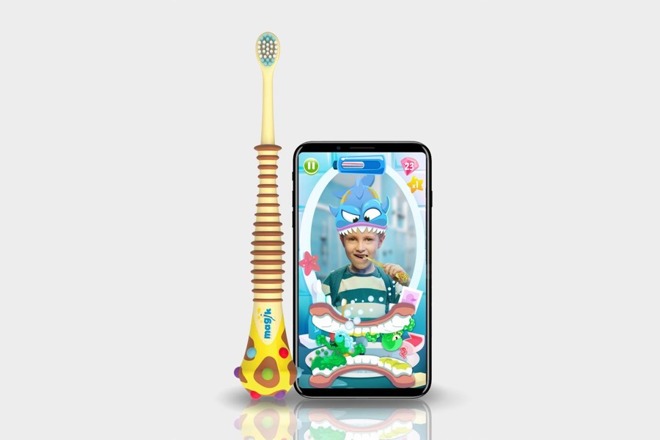 What it is: Kolibree has introduced the Magik Toothbrush, which uses augmented reality to help children brush their teeth.
A toothbrush is essentially a tool but it's not a very smart one. It has no idea if you're using it properly and doesn't provide any help in tracking your habits to see if you're brushing all your teeth properly. That's going to change with Kolibree's Magik Toothbrush, designed for children but with technology hat can be applied to adults as well.
The idea behind the Magik Toothbrush is that you pair it with an iPhone or iPad. While you brush, the augmented reality app lets you see where you've brushed and what areas you've missed so far. By viewing this app, children can see what areas they need to clean next.
The app also sends data to the parents that lets them know how long their child brushed so they can modify the app to guide the child further into cleaning all areas properly. Just when you thought augmented reality and smart devices were only limited to cars or appliances, now machine intelligence is coming to your toothbrush as well.
The future of augmented reality is coming faster than you might think, and a smart toothbrush is just the beginning. With wearable computers combined with augmented reality, we'll soon be able to capture more health-related data than ever before. Of course, the key is learning to act on that data afterwards.
To read more about this smart toothbrush, click here.