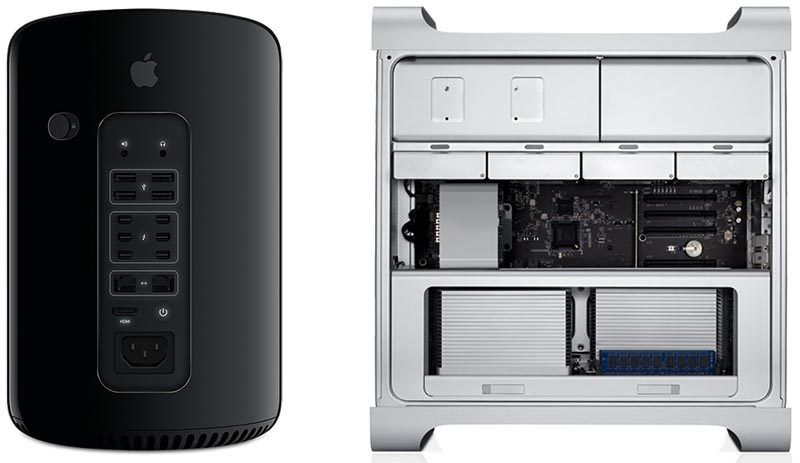 What it is: Apple announced they're working on an upgradeable Mac Pro for extreme power users.
Most people don't need a super powerful computer, but a handful of professionals do who work with video editing, animation rendering, and other high-end tasks. Apple released the iMac Pro recently to satisfy7 these power users, but a huge flaw with the iMac Pro is that it's trapped in an all-in-one case that makes it difficult to upgrade. The iMac Pro will be fine for some people, but for others who want to upgrade parts themselves, it will not be the answer.
The old Mac Pro was simply a big box. It didn't look any different from PC cases so Apple redesigned the Mac Pro to a trash can design. While innovative, it was also a closed system that was difficult to upgrade. Although the Mac Pro was powerful, its inflexibility doomed it. Professional users want a powerful computer they can upgrade if they wish.
Apple appears to be ignoring the Macintosh market and finally getting back to upgrading the lineup. The low-end Mac mini still hans't been updated in years despite its popularity due to its small size. The Mac Pro is finally being redesigned. Apple still doesn't seem to know what to do with the MacBook and the older MacBook Air laptops. In general, Apple seems to be running the Macintosh market by reacting to changes and criticism rather than leading.
The real market for the Macintosh are laptops since more people buy and use laptops. Desktops are sold less frequently since people tend to hold on to them longer. The professional computer market is a tiny niche but an important one that Apple has ignored for too long. Apple's professional computer market should be clear.
First, there are those who like the all-in-one computers because they're easy to move from one place to another infrequently. For example, many movie studio crews film and analyze the video on location.  They may be in one town for a week or two, then move to a different city for the next month. An all-in-one like the iMac Pro gives them the convenience of a large screen with a case that's easy to move.
Second, there are those true power users who need a laptop so they want the most powerful MacBook Pro laptop. This trades a smaller screen for sheer portability, which is fine for frequent traveling but may not be as suitable when moving infrequently and needing a larger screen.
Third, other power users need an upgradeable computer like the old 2012 Mac Pro. This lets them swap in more RAM, graphics cards, or even faster processors and hard disks later if they wish. These power users don't need mobility at all, but do want to keep their computers as powerful as possible to make their tasks faster such as CAD or animation rendering. Mobility is not necessary for these power users.
So Apple's power user market needs the iMac Pro and the MacBook Pro laptop, but it also needs a new Mac Pro that's upgradeable. It's coming soon so let's hope Apple finally delivers what a niche group of power users really need.
To read more about the coming of the new Mac Pro, click here.