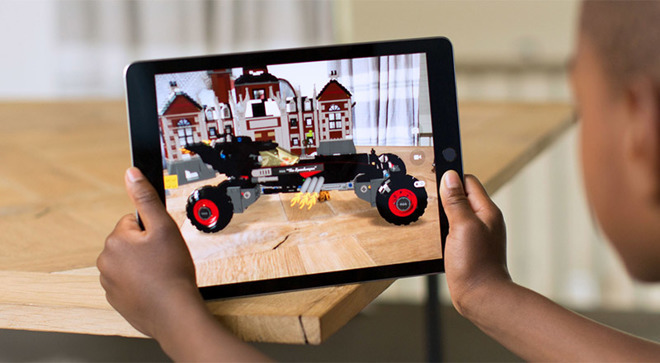 What it is: When Apple introduced ARKit at their developer's conference, they helped make augmented reality accessible and commonplace.
Pokemon GO was the first major augmented reality app that most people heard about, but the makers of that game had to create their own augmented reality code. With the introduction of ARKit by Apple in the summer, anyone can easily add augmented reality to their apps with little extra coding. ARKit essentially takes care of the hard part of calculating locations and identifying flat surfaces so your app can focus on supplying the augmented reality content.
With ARKit, Apple introduced millions of people to augmented reality since it can run on the latest iOS devices such as the iPhone 6s. In comparison, most Android devices cannot run Google's original augmented reality framework called Project Tango, which Google recently dumped to focus on a new framework called ARCore. The big problem with ARCore is that ARCore supported apps aren't available in the same quantity as ARKit supported apps are on iOS devices.
Once more Android devices support ARCore, you can expect more augmented reality apps to appear on Android so iOS's lead right now is only temporary. However, the real key is how augmented reality will become commonplace on mobile devices. Once ARCore and ARKit become adopted by more developers, expect more augmented reality apps to appear simultaneously on iOS and Android. That means more augmented reality apps to push the public into accepting augmented reality as something as ordinary as voice-activated assistant like Siri.
Augmented reality is going to move beyond games and simple gimmicks to practical applications. When people start relying on augmented reality apps for everyday use as often as people use driving directions, that's when you'll know augmented reality will no longer seem like an exotic technology but something that just works, much like the processor, the voice-activated assistant, or the touch screen on your mobile devices.
To read more about Google's attempt to bring augmented reality to Android, click here.