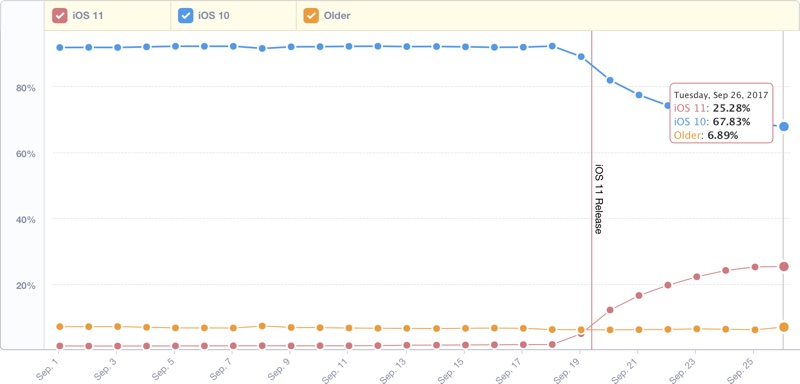 What it is: Apple released iOS 11 a week ago and already it's been installed on 25% of iOS devices.
When Android was being developed, it was meant to be a clone of BlackberryOS. Then when Apple introduced the iPhone, Android rapidly shifted gears to become a clone of what's now known as iOS. although Android behaves mostly like iOS and sometimes has more advanced features, the difference between iOS and Android is most apparent when it comes to adoption rate.
Android device makers have zero incentive to update their older devices to the latest Android version because they can only make money selling newer Android devices to the public. That's why companies like HTC, Samsung, and LG drag their feet on issuing Android updates for their devices. First, it takes time and money to test the latest Android version on older devices. Second, it doesn't bring in any additional revenue and actually hurts revenue by keeping potential customers from buying new Android devices. Given these twin disincentives to updating Android on their devices, it's easy to see why Android's adoption rate lags behind.
The latest version of Android (Oreo) isn't even on a significant number of devices with most Android devices running versions of Android that are two or three years old. That means no matter what new features Android offers, it will never be available to the majority of Android users for at least a few years. Even then, any new features will need to be tested on multiple hardware configurations, making it unlikely that Android can keep up with the rapid progress of iOS.
In a little over a week, 25% of iOS devices are running the latest iOS 11, which means new features of iOS 11 can be accessible by owners of older iOS devices. That increases the chance for newer features to be adopted like augmented reality. Android actually offered augmented reality before Apple, but Android's version of augmented reality ran on so few Android devices that it's largely ignored.
As Apple keeps introducing new features like machine learning and augmented reality to iOS, expect Android to fall further and further behind. It's easy for Android device makers to copy hardware and lower their prices. It's much harder for Android device makers to get their users to adopt the latest version of Android without buying new devices. The Android business model is geared for inefficiency when it comes to adoption of the latest version. The iOS business model is optimized for rapid upgrades to the latest version of iOS. In the long run, iOS will win in terms of user experience and features.
People will still buy Android devices because of the variety available at different prices. Yet the future of the smartphone industry still lies with iOS. Android will keep following iOS's lead, which means Android will always be behind. Meanwhile, rivals like Windows Phone and Tizen are all but dead with no hope of challenging iOS or even Android. If you want to see the future of the smartphone, you can only get it through iOS. If you're willing to wait on the future, then use Android.
To read more about the vastly different adoption rates between iOS and Android, click here.