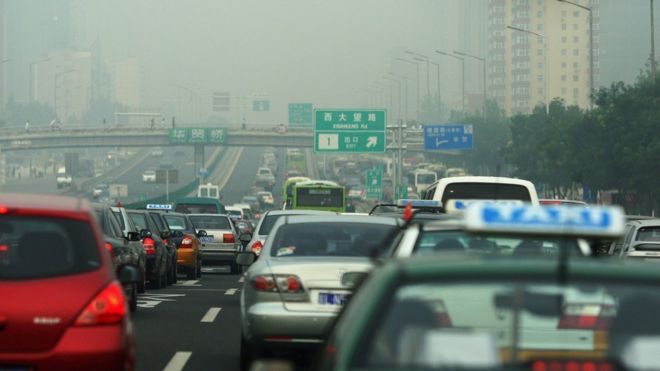 What it is: Following the lead of the UK and France, China also wants to ban gas and diesel cars.
The UK and France have a goal of banning gas and diesel cars by 2040. The reason is obvious: pollution. Just visit Mexico city to see a layer of smog filling the air, or visit any major city in China. China's air pollution problem is so bad that the nation has the highest incidence of Parkinson's Disease, which researchers believe is directly attributed to the poor air quality in Chinese cities. Pollution is obviously bad for humans and the environment, so China wants to ban gas and diesel cars in the future.
That means the future is electric. The details of Apple's rumored Apple Car remain murky but one point is clear. The Apple Car will not be gas or diesel powered. Rumors have pointed to electric or even hydrogen fuel cells. Whatever the case, gasoline and diesel fuel is not the future of transportation.
Just replacing cars with electric motors will be a huge step in reducing pollution, but won't do much to solve the problem of traffic congestion. To solve that problem, we need more than electric cars and that's where self-driving cars can come in along with ride-sharing services.
Self-driving cars can optimize traffic patterns so maximize the flow of cars through a given roadway. That will simply speed up traffic even given the same amount of vehicles on the road. Self-driving cars will be optimized for getting cars from one place to another in ways that humans can never match. That alone can reduce traffic jams, but what will further reduce traffic jams will be ride-sharing services.
Already ride-sharing services are more convenient and less expensive than mass transit options like buses, subways, and trains. As ride-sharing services grow in popularity, they'll take cars off the road because individual car ownership will be pointless for most people. Toss in self-driving, electric cars with ride-sharing services and you can see the future clearly.
That means a loss of taxi and buses along with less dependence on mass transit. Gas stations will need to switch to electric charging stations, but with self-driving cars, they'll need a way to automate recharging and that will eventually come with solar panels on the roof to eliminate charging stations for the most part. With improved battery technology, a single charge form a charging station can last all day, supplemented by solar panels. That means gas stations will largely be irrelevant along with parking garages.
Just think of a world of self-driving, electric cars where most people rely on ride-sharing services and you can see which businesses will be hurt (parking lots, taxis, gas stations, etc.) and which new and existing businesses will eventually thrive (ride-sharing companies like Uber and Lyft, electric battery and solar panel companies, and smartphone companies).
Most people fail to see and anticipate the future because they keep clinging to the past until it's too late. With the future so clearly defined through upcoming bans of gas and diesel powered cars, you can't get blind-sided when the future eventually arrives.
To read more about China's proposed ban of gas and diesel cars, click here.