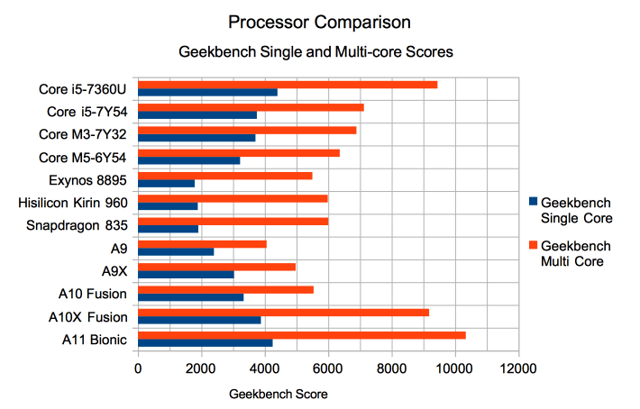 What it is: Apple released the A11 Bionic ARM-based processor that matches some Intel processors.
In the early days of computers, mainframe and minicomputer users dismissed PCs as toys because the Intel processors used inside PCs weren't as powerful as the processors used in mainframes and minicomputers. Gradually Intel processors increased in power until PCs are commonplace while mainframe and minicomputers are not. PCs were useful even when they were less powerful than mainframe and minicomputers because they could be used in places that couldn't afford a mainframe or minicomputer. That same process is now repeating itself with the world of mobile computing.
Mobile computers like smartphones and tablets use ARM-based processors in comparison to Intel processors used in PCs. That's because ARM processors use far less power since mobile devices rely on batteries. For the longest time, ARM processors were far less powerful than Intel processors, but that's now changed.
Apple's latest A11 Bionic ARM processor is just as fast as some modern Intel processors used in the MacBook Pro. As ARM processors continue improving in power while maintaining their advantage in lower power consumption, it's only a matter of time before ARM processors become the standard computing processor. After all, why settle for a less powerful, less energy-efficient processor (Intel) when you could have a more powerful, more energy-efficient processor (ARM).
Apple's A11 Bionic ARM processor represents a milestone in ARM processor development. Expect each new generation of Apple's A-series ARM processors to get even faster. When there's a clear performance advantage for ARM processors, expect the world to start shifting to ARM processors.
Mobile computing is the future. Small, lightweight computers will be far more useful than bulky desktop PCs that are tied to a specific location due to their size and weight. Just as few businesses use mainframe or minicomputers any more, expect the world of PCs to slowly disappear as mobile computing takes over, led by ARM-based processors such as Apple's A-series chips. The future is clear and it's not Intel any more.
To read more about the performance of Apple's latest ARM-based processor, click here.