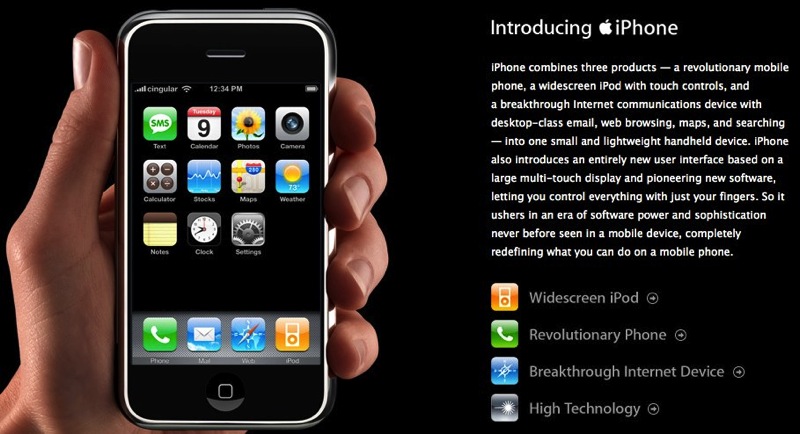 What it is: Ten years ago on June 29, 2007, Apple introduced the iPhone.
In hindsight, everything looks obvious. That's why history books make progress look inevitable and smooth. When people invent airplanes, printing presses, cars, and computers, history books make it sound like society readily accepted these new inventions and warmly embraced them for the advantages they could bring.
Nothing could be further from the truth.
Anything new always brings out a rash of heated and dogged criticism. When personal computers first appeared, mainframe users called them "toys". When cars first appeared, people used to yell, "Get a horse!" When people tried inventing airplanes, critics used "facts" to prove that heavier than air machines could never fly.
Why is it that the human race can be so blind to the future when it's obvious right in front of their face? That's the same storm of criticism that Apple faced when they introduced the iPhone. Critics claimed it was nothing special, it would never become popular in the enterprise, and that it could never replace smartphone leaders like Blackberry, Nokia, and Microsoft with their Windows Mobile software that even Palm Computing used on their Palm smartphones.
Look what's happened since then. Blackberry smartphones are rare and selling fewer units every year. Nokia sold their phone business to Microsoft, which went nowhere. Microsoft dumped Windows Mobile and kept trying to rewrite Windows Phone until giving up completely and going with Windows 10 Mobile instead. All three previous leaders are now also-rans in the smartphone business because of the iPhone.
Yet critics still can't see the obvious right in front of their eyes. When Apple introduced the iPad, critics said it was nothing but a bigger iPod touch. Then the iPad proceeded to wipe out the netbook market.
When Apple introduced the Apple Watch, critics said it had no purpose. Then the Apple Watch proceeded to kill watch makers and fitness band makers in one stroke. Microsoft tried to compete with the Microsoft Band and gave up after two generations. Android Wear still struggles for acceptance. Meanwhile, the Apple Watch is continuing to grow and will eventually become the leader of the wearable computer market.
If people failed to see the impact of the iPhone ten years ago, how can you expect them to recognize the obvious when they see it today? People generally refuse to accept anything new and actively resist it because they have too much invested emotionally in current technology so they want new technology to fail.
People are still resisting the Macintosh as an alternative to Windows PCs. People are still resisting email and social networks because they feel old fashion telephones and letters sent by mail are still just as good. Even business executives running Sears, JC Penny, and Target are still resisting online shopping because they think retail stores have a future.
As the iPhone showed ten years ago, there's always a better way of doing something. Sometimes that better way itches on and sometimes it dies of neglect, but that doesn't mean the old and current way of doing something is always the best and only correct way of life.
When you see all the criticism of people who dismissed the iPhone ten years ago as a fad or gimmick, you realize how short-sighted people can be when the future is obviously staring right back at them in the face.
Keep an open mind and be ready for change because if you aren't, it's going to happen anyway.
To read comments from critics who dismissed the iPhone ten years ago, click here.