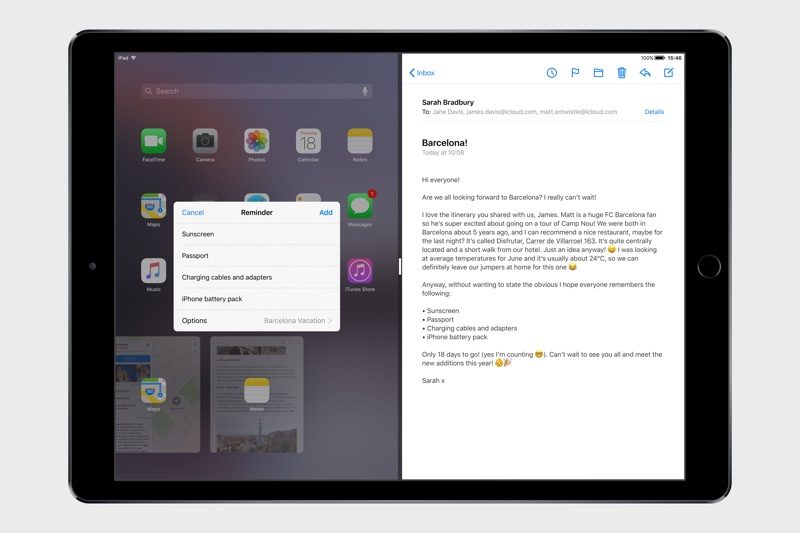 What it is: Apple will likely release iOS 11 at their June developer's conference, but has iOS grown too big for the iPhone and iPad?
When Apple first created the iPhone, the operating system was designed solely for the iPhone and called iPhone OS. When Apple introduced the iPad, they used the same operating system so apps could easily run on the iPhone and iPad. Then they renamed the operating system iOS.
However, one problem is starting to emerge. The iPhone and iPad are distinctly different devices. They may be similar, but their form factors require different features. Federico Vittici has created a series of mock images for iPad-only features he'd like to see in iOS 11. While it's unlikely the features highlighted in these mock images will be exactly the same as those introduced in the upcoming iOS 11, it does point out a problem.
iOS is no longer a perfect match for both the iPhone and iPad.
The iPad needs to take advantage of a larger screen. The iPhone needs to focus more on touch interaction because that's the way most people will use an iPhone. The iPad can use an optional keyboard to turn it into a pseudo-laptop. Most people will never use a keyboard with their iPhone. So it doesn't take much to imagine that Apple will need to fork iOS to better meet the needs of iPhone and iPad users.
The key is compatibility. Right now, you can run any iPhone app on an iPad. It may not look good but it will work. If Apple retained this compatibility but still allowed iPad-only features, then developers could write optimized iPad apps and scale them back for the iPhone if necessary. Then again, some iPad apps won't run on the smaller screen of the iPhone.
There's no longer a need to get apps on the iPad by letting them run iPhone apps. The iPad is becoming its own produce and needs its own operating system. Just like watchOS and tvOS, an iPad OS would still be similar to the iPhone, but just offer features unique to that device. For example, watchOS offers touch interfaces so the Apple Watch can tap the user on the wrist for feedback. That feature is pointless in an iPhone or iPad.
Just as Microsoft is running into problems trying to optimize Windows for PC, tablet, and smartphone use, so is Apple now running into problems trying to cram iOS into both the iPhone and iPad. One day they'll need to break these two apart and optimize the operating system for each device. That someday may be soon because an optimized iPad operating system could do nothing but help sales of the iPad by offering features people have been clamoring for.
The iPad may have grown out of the iPhone, but it's all grown up now. It's time for Apple to let it loose with its own operating system.
To read more about the possible concept of iPad-only features in an operating system, click here.