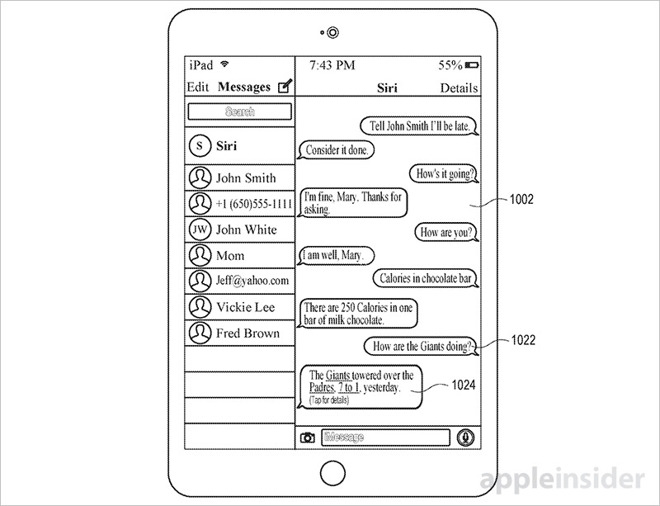 What it is: Apple recently filed a patent for integrating Siri with its Messages app.
Siri was one of the first voice activated, natural language assistants that could answer questions and perform tasks such as scheduling appointments or retrieving email. While many people use Siri and its rivals like the Cortana and Alexa, Apple could be moving Siri into text messaging as well.
Instead of interacting with Siri through voice, you could interact with Siri through text messaging. This would allow you to ask Siri questions through typing and have Siri respond. While talking might seem more natural, you might not want to use Siri in a public place where everyone around you could hear what you were saying. Texting lets you keep your communication private while still getting answers from Siri.
Moving Siri from audio to text simply expands Siri's reach in understanding natural language. You can expect rivals to follow suit but Siri still retains an advantage in understanding more languages than its rivals. If Siri can understand more write human languages than its rivals, that would create a tremendous advantage for Apple.
Perhaps one of the more interesting uses for Siri's natural language capabilities would be in learning a foreign language. Beginners to a new language are often hesitant to speak for fear of mispronouncing words or looking foolish in front of others. Yet by practicing with Siri in both audio and text format, you could learn a foreign language by speaking it and writing it as well as reading Siri's answers. This could give you more confidence later when trying your new language skills on actual human beings.
Natural language processing has come a long way from the early days when you had to exhaustively train a computer to recognize your voice. Now Siri can understand practically any spoken command and will soon be able to understand written commands as well. Siri is a major breakthrough in user interface design. Let's hope Siri keeps growing in capabilities and becomes indispensable in either audio or written form for more people around the world.
To read more about Siri moving to the Messages app, click here.