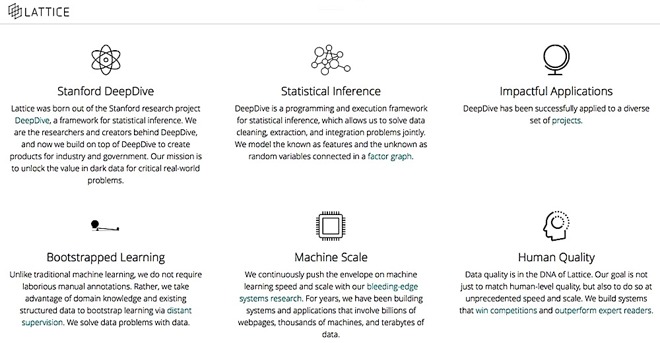 What it is: Apple recently acquired Lattice Data, an artificial intelligence company.
The future is artificial intelligence (AI). That's because AI is crucial for self-driving cars but even if Apple chooses to ignore that field, AI is vital for natural language processing such as making Siri smarter and more capable of understanding different languages. AI is also handy for facial recognition and behind the scenes work analyzing data such as what Google does to track search queries or what Amazon does to track shopping habits.
It's not practical for humans to sift through mounds of data to look for patterns or information so AI will have to do it instead. The big question is what will Apple plan to do with their newly acquired data learning expertise?
Lattice Data's website states: "Our mission is to unlock the value in dark data for critical real-world problems." Their software "extracts value" from various "dark data" sources, serving as a "programming and execution framework for statistical inference, which allows us to solve data cleaning, extraction, and integration problems jointly. We model the known as features and the unknown as random variables connected in a factor graph."
What this sounds like is that Lattice Data has software that can take a chunk of data and make sense out of it based on the contents of that data. Perhaps this means humans have to give the AI a limited set of rules to follow or perhaps it means the software can simply reach conclusions all by itself based on the frequency of certain types of data.
For example, if applied to a search engine, the AI would notice when people queried similar items and what they looked at next. Based on this simple analysis, the AI could then predict what types of ads those people would be more likely to want to see, boosting ad click rates.
It's clear that Apple is doing plenty of work on AI along with other companies like Microsoft, Google, and Facebook. But all this acquisition of AI means nothing unless Apple (and other companies) have clear goals for how to apply AI to do useful work. Self-driving cars is one application, facial recognition in photographs could be another. Data analysis for sales results is another obvious choice.
Whatever happens, AI will drive the future. Apple's latest acquisition shows that Apple is at least trying to keep up in the field. Whether they become a leader or not is irrelevant. What really matters is how they plan to use AI as a competitive advantage, and that's what we need to be looking for in the future from Apple.
To read more about Apple's latest acquisition, click here.