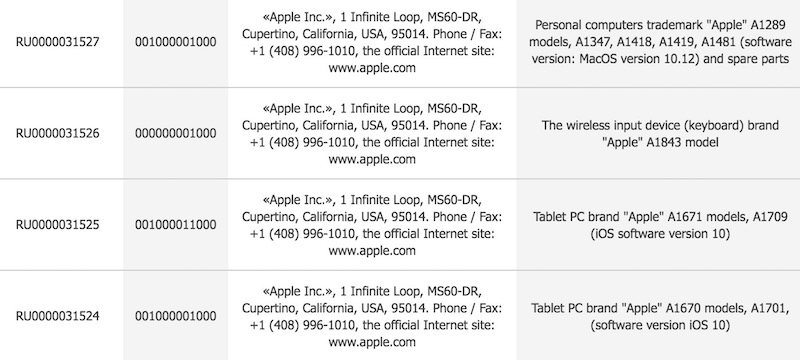 What it is: As part of their regulatory filings, Apple listed several new products in Russia.
Before Apple releases new products, they often release official information about new products overseas with various regulatory agencies. The latest news points to Apple releasing several new products soon, most likely at their June 5th Worldwide Developer's Conference (WWDC). Besides new Macintosh models, Apple may also be releasing new iPad models. Buried in these Russian regulatory filings is also information about a wireless keyboard.
A new wireless keyboard would be necessary for Apple to spread the Touch Bar to desktop Macintosh models. That would mean new iMac models and possibly new Mac mini models as well. The Touch Bar is currently only available on a few MacBook Pro models so if Apple is serious about making the Touch Bar a common feature of the Macintosh, they absolutely must find a way to bring the Touch Bar to wireless keyboards for desktop models.
When the Touch Bar comes to desktop models, then the Touch Bar will become a normal part of Macintosh computers much like the mouse did back in 1984. Then the PC world will likely adopt the Touch Bar interface as well. The Touch Bar essentially replaces the top row of useless function keys with virtual keys. Given a choice between function keys or a Touch Bar, the Touch Bar completely replaces the function keys while also duplicating them if necessary. Therefore the Touch Bar has a future and function keys do not.
The big question surrounding new Macintosh models is how much will they cost and how expandable will they be? In the past, a Mac mini could easily be expanded by adding new memory chips. The latest Mac mini models soldered the memory chips in so you couldn't upgrade the RAM yourself, which proved a huge disappointment to many people. This lack of expandability hurts the Macintosh because something as simple as adding more RAM becomes difficult or impossible.
June 5th will let us know exactly what Apple plans to release soon. Until then, we can all hope that Apple actually meets the demands of its customers with these new products. Perhaps Apple may pleasantly surprise us all this year.
To read more about Apple's latest regulatory filings in Russia for new products, click here.