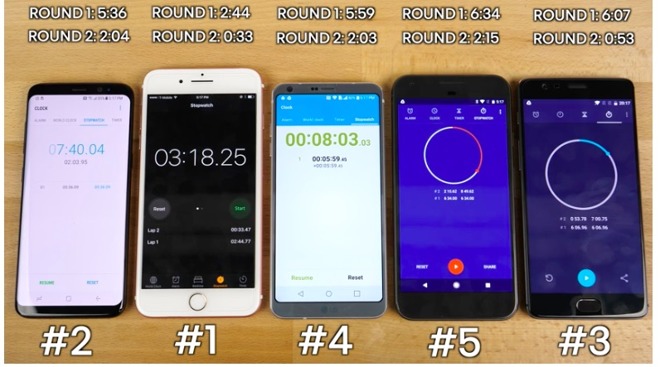 What it is: In the latest benchmark speed tests, the iPhone beat all Android competitors despite having lower technical specifications.
This is the way marketers try to promote the superiority of their products. They parade a laundry list of technical specifications so if you compare the two, you'll obviously think a faster processor and more RAM would mean a better and faster product. Unfortunately for Android device manufacturers, higher technical specifications don't result in better performance over an iPhone with a slower processor and less RAM. IN fact the opposite occurs where an iPhone with a slower processor and less RAM proves much faster than an Android device with a faster processor and more RAM.
The difference is optimization. Apple can optimize both the hardware and software components of the iPhone for maximum efficiency. Android device manufacturers slap together off-the-shelf components along with the standard Android operating system and try to get faster performance by simply cramming more RAM and a faster processor into their products. The end result is a technically superior device based on technical specifications alone, but an inferior device when it comes to actual use.
By parading a laundry list of technical specifications that imply superiority to the iPhone's slower processor and lower RAM, Android device manufacturers are simply embarrassing themselves further when benchmarks show that the iPhone is still faster. That speed difference highlights the vast difference in quality between an Android device and an iPhone.
Android is fine is you want an inexpensive device and that's your primary goal. If you want the best user experience, then you need to buy an iPhone. Surprisingly, some Android smartphones cost just as much or even more than an iPhone. To spend more money to get less performance makes no sense whatsoever. To spend less money and get less performance makes sense if you're focused on price alone. Spending less money while expecting better performance will never happen, and yet that's the pipe dream Android device manufacturers keep trying to promote in their advertising.
Android device manufacturers should simply focus on cheap products because that's their only competitive advantage. Even then, a refurbished or used iPhone is still a better deal than a similarly priced Android smartphone. If you don't want an iPhone, then you have to settle for an inferior smartphone from another company. If you're fine with that, then there's no point in comparing Android to the iPhone. If you're not happy with owning an inferior smartphone despite paying less, then you'll never be happy no matter what. That's because the choice will always be to get an iPhone or get a cheaper, slower Android smartphone.
If you're really motivated, you an always get a Windows Phone smartphone, but good luck finding any apps that will work on it. If that's not an option for you, then choose between an Android smartphone or an iPhone and be happy with your decision.
For people who want the best performing smartphone on the market, the iPhone is the clear winner despite lower technical specifications. For people who want the cheapest smartphone on the market, Android smartphones are the clear winner. For people who want an Android smartphone that outperforms the iPhone and costs less, keep dreaming. It will never happen.
To read more about the latest benchmarks showing the speed and performance advantage of the iPhone over Android rivals, click here.