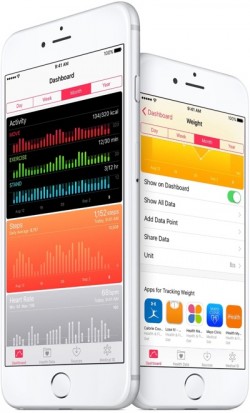 What it is: The original idea for the Apple Watch was to monitor health in real-time, but the most important use was non-invasive blood glucose monitoring.
Many people still don't know what they would need an Apple Watch for, but the answer is simple: real-time health monitoring. By tracking your physical activity, you can see whether you're moving enough or simply sitting far too long in one place. A sedentary lifestyle will eventually lead to health problems, so it's important to stay active even if it's just walking around daily.
When Apple first came up with the idea for the Apple Watch, one rumored feature was a non-invasive sensor for monitoring blood glucose levels. Right now it's not easy to monitor blood glucose levels without jabbing someone with a needle. If Apple can get this technology to work (and they're currently working on it), this would provide a huge benefit to people with diabetes.
Beyond the technical problems getting this to work, Apple also has to negotiate the legal problems. Any such blood glucose monitoring sensor would need to pass the Food and Drug Administration's (FDA) approval, which could mean a lengthy amount of time testing to insure the sensor works properly and accurately. Waiting for FDA approval would take so long that Apple has already stated they plan to make such a blood glucose sensor a supplement to the Apple Watch. This would allow Apple to continue improving the Apple Watch without waiting for approval.
Since not everyone needs blood glucose monitoring and Apple doesn't want to tie up the Apple Watch to government regulations, the most likely place to put a blood glucose sensor is in a smart band that pairs with the Apple Watch. This would allow Apple to sell an Apple Watch that could appeal to most people, and then sell additional smart bands to address specific needs.
Some people might need to monitor their blood glucose levels while others do not. By letting you swap out sensors built-in to smart bands, Apple could continue selling the basic Apple Watch and sell smart bands for those who need more features.
Perfecting non-invasive blood glucose monitoring would be a huge market, and other types of sensors won't be far behind. Such real-time health monitoring would truly fulfill the potential of wearable computers and give far more people a reason to buy and use a wearable computer like the Apple Watch. Seniors are especially worried about monitoring their health, so a wearable computer like the Apple Watch could tap into that huge market. People with diabetes and other specific health problems would be another huge market.
Even though the Apple Watch hasn't turned into a massive success like the iPhone, it will eventually. Today's Apple Watch is much like looking back at the early iPhone models that look so primitive today. Yet the only way we could arrive at the current iPhone design was to go through the far more limited models of the early iPhones.
The same process is happening with the Apple Watch. It may not be a must-have product today, but it's getting there. Today the Apple Watch is a nice accessory. Tomorrow it will be a complete necessity.
To read more about Apple's glucose monitoring research, click here.