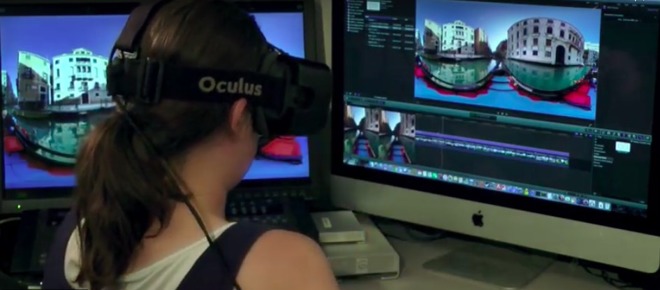 What it is: Apple recently hired Tim Dashwood, the author of a series of 3D and 360 VR plugins for video editing software.
Two sure-fire ways to predict the future of Apple is to see which companies they're acquiring and who they're hiring. Apple's interest in augmented reality is easy to predict just by looking up old YouTube videos from a German company called Metaio. Apple's interest in health research and non-invasive sensors was easy to predict just by seeing all the medical researchers Apple hired in the past few years who have expertise in sensor technology for health applications. Apple wouldn't be acquiring companies and hiring people with specific skills if they didn't have plans to use those skills and assets in the near future.
Now Apple's latest hire is Tim Dashwood, who developed a series of video editing plugins for Final Cut Pro X. Specifically these plugins worked with 3D and virtual reality, which hints that Apple is also interested in 3D video editing and virtual reality as well.
A future iPhone is rumored to have a 3D camera, which can be used for facial recognition so it won't be fooled by showing it a photograph of the real user. A 3D camera could also capture images for easily capturing digital representations of objects for 3D printing. Furthermore, a 3D camera is essential for self-driving technology.
Now 3D video editing is just as important for nearly all of those tasks as well. Plus Apple plans to put further emphasis on catering to the professional market, and video editing is one of those tasks that professionals use Macs. By learning from a professional plugin developer what professionals want and need, Apple can leverage his background to further develop their professional lineup of Macintosh models.
After neglecting the Macintosh for years, Apple seems to have finally woken up to cater to the professional market once more. The classic lineup of Apple products generally falls into two categories: consumer and professional. While the professional market is much smaller, it's also more vocal in their support (or criticism).
Hopefully this latest hiring by Apple points to better professional Macintosh models, better video editing tools, 3D cameras, and augmented/virtual reality creation. At the very least, it definitely hints that Apple is looking towards the future. Let's just hope they're looking far enough ahead.