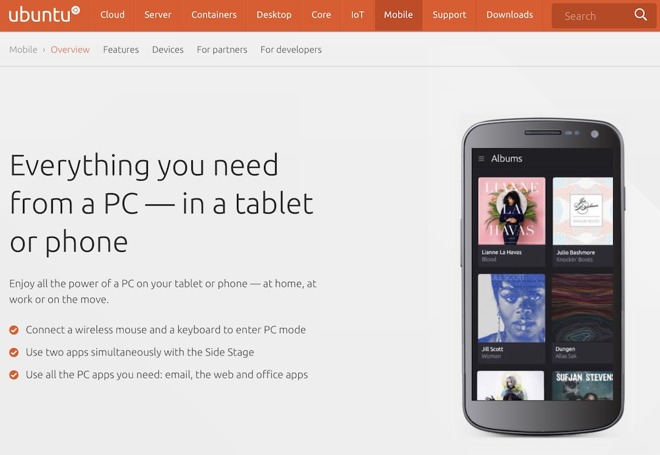 What it is: Canonical, the makers of Ubuntu Linux, announced they're killing their Unity8 project designed to enable a single operating system to work across multiple devices.
Tell me if you've heard this before. A company decides to make a user interface that they hope will work across multiple devices from smartphones and tablets to PCs and smart TVs. The goal is to offer a single, consistent user interface across multiple devices so people only have to learn one user interface. Then a single device can work as multiple devices such as turning a smartphone into a PC or a PC into a tablet.
If this sounds like Microsoft's vision with Windows 10, you may be right, but it's also Canonical's dream with their Unity8 project, which was designed to create a single operating system and user interface that would work across multiple devices. At one time, Ubuntu Linux was the most popular Linux distribution in the world. As soon as Canonical tried to push their Unity8 user interface across multiple platforms, the world shifted to Linux Mint, and Debian, pushing Ubuntu Linux out of its top spot.
Now Canonical has finally decided to drop their Unity8 project. One reason is that most people do not want a single user interface for all devices. That would be like having the same user interface of a car inside an airplane, a video game console, and a bicycle. Forcing the same user interface across multiple devices ultimately means pandering to the lowest common denominator. Rather than offering an optimized user interface for each device, the same user interface offers mediocre efficiency instead in return for familiarity. It just doesn't work.
The fact that Unity8 helped kill Ubuntu Linux's popularity should be a clear warning sign to Microsoft that pushing their Windows 10 user interface on smartphones, tablets, PCs, and TVs probably isn't a smart idea. Microsoft tried pushing their desktop PC user interface of Windows 95 on to smartphones with Windows Mobile and it didn't work. Then they tried pushing the tile interface of Windows Phone 7 on to PCs with the disastrous Windows 8, and that didn't work either. Now they're trying to push Windows 10 on all devices and guess what? That probably won't work either.
One reason why Microsoft's Surface lineup of computers is growing in popularity is because the Surface Pro devices are mostly ultraportable laptops that can double up as a tablet if necessary. This means you don't need a laptop and a tablet since one or the other is usually sufficient. Given the familiarity most people already have with laptops and the greater power of laptops, most people prefer laptops first and tablets second. That's what makes Microsoft's Surface Pro devices attractive. How many people are buying Surface Pro devices for its tablet features first? Now how many people are buying Surface Pro devices for its laptop features first?
Canonical's experiment with Unity8 shows that the Linux world doesn't want a unified user interface across multiple devices. People want optimized user interfaces for each device, even if that optimized user interface is radically different from any other device. If the user interface is optimized for a particular form factor, it doesn't matter if it's different or not because it will be easy and efficient to use. If a user interface is designed for the lowest common denominator of multiple devices, it doesn't matter if it's familiar if it makes performing tasks clumsy and inefficient on different devices.
Think of the Start menu interface on smartphones that Windows Mobile once offered, or the tile interface on PCs that Windows 8 tried to force on people. Inefficient user interfaces are simply inefficient user interfaces no matter how familiar they may be.
Canonical likely gave up its lead in Linux popularity for good when they tried to pursue their misguided Unity8 project. That should be a clear warning to Microsoft that perhaps their Windows 10 everywhere campaign might not be successful either.
To read more about Canonical's decision to drop their Unity8 project, click here.