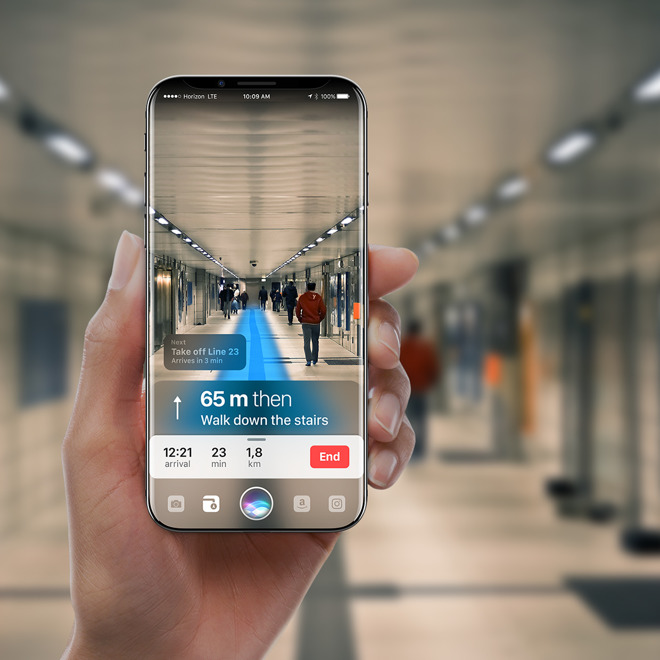 What it is: Augmented reality is coming to the iPhone and here's one concept for how it might work.
Anyone who has played Pokemon GO understands how augmented reality works. You aim your smartphone at something right in front of you and augmented reality shows you that scene plus a cartoon image overlaid over that scene.
Because augmented reality can work with a smartphone, it's far easier to implement and use regularly whenever you need it. Compare this to buying a virtual reality headset, carrying it around, and strapping it to your face whenever you want to use it. Given a choice between holding your smartphone up in the air or strapping a virtual reality headset to your face, which do you think most people will want to do?
The main idea behind augmented reality is to show you additional information overlaid on top of the existing image. In the above concept image, augmented reality could show you which direction to walk and approximately how far to your destination. Of course, such augmented reality would be handy for walking directions only if you could track your movement easily indoors, which is probably why Apple acquired WiFiSlam that had technology for indoor tracking.
To make augmented reality work, Apple needs to get additional technology to work first such as indoor tracking, indoor mapping, and improved image recognition in their cameras and software. In addition, Apple needs to create tools for creating augmented reality as well.
To get all of these diverse pieces working together is the real challenge. The technical problems can be overcome, but making augmented reality as simple to use is the real challenge. However, once Apple gets everything polished and perfected, guess what? Other companies will find it impossible to duplicate easily.
Augmented reality will be the huge difference between the iPhone and iPad and everyone else. By the time rivals offer similar augmented reality features to Android, the world will have already adopted Apple's augmented reality solution instead. Trying to copy augmented reality quickly will be nearly impossible, which gives Apple time to continue advancing their lead. Augmented reality will be the game changer between iOS and Android.
It's easy for Samsung and other rivals to copy hardware or even offer more advanced hardware. It's much harder for rivals to offer frameworks for software features. Apple is likely polishing their augmented reality features to make it as perfect as possible. The longer they take to develop augmented reality, the harder it will be for rivals to copy those features. Since Apple has no deadline, they can focus on getting augmented reality to work right, which is a luxury of time that rivals won't have.
Augmented reality is the new "iPhone" for Apple. It will literally change the smartphone and tablet market completely. iOS already helped kill the future of Microsoft's Windows Phone operating system. Augmented reality could be the best chance for Apple to kill Android as well.
To read more about the potential of augmented reality, click here.