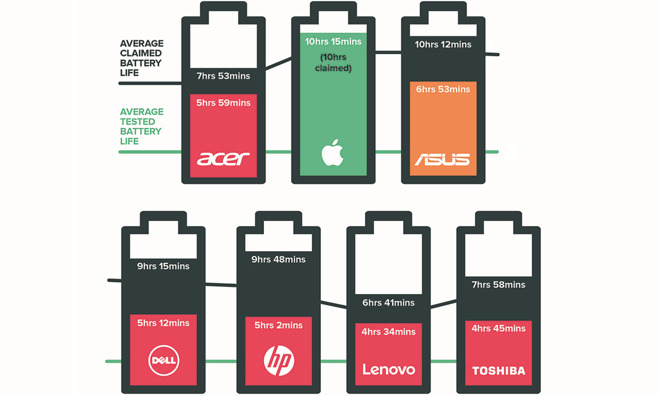 What it is: According to Which?, a British publication, Apple laptops are the only ones that meet the advertised battery length.
What's the difference between Apple and other computer manufacturers? One huge difference is that Apple doesn't lie. According to the British testing publication Which?, Apple's laptops are the only ones that meet or exceed advertised battery life. Not so surprisingly, other computer manufacturers wildly overestimated their laptop battery life. Dell and Hewlett-Packard advertised up to 9 hour battery life but in practice, the batteries lasted 5 hours, which is almost half as long as advertised.
Why would other companies deliberately lie about the battery life of their laptops? Because they can't tell the truth. If they told the truth, then people would be less likely to buy their products. After all, would you want a laptop that runs for 9 hours or one that only runs 5 hours? Of course, if you buy the laptop that claims to run 9 hours, it's far more likely that the battery will actually last only 5 hours.
Besides making their products look better than they are, the other reason why so many companies lie about their battery life is because buyers accept this blatant deception. Rather than rebel and refuse to buy a company's products, far too many people simply accept that lying and outright deception is a fact of life, much like virus infections. Because they think poor battery life is the norm, far too many people don't bother looking for any company whose laptops actually meet the advertised battery life.
This is just one reason why people are fans of Apple products. They may be more expensive than rival PC products, but the build quality is usually superior, the operating system is less prone to catching malware infection, and the battery life actually meets the advertised values.
In general, PC manufacturers have to lie because they're busy competing on price so they must lower their prices and cut their profit margins so thin that they can't afford to worry about quality. If you want a cheap computer, it's easy to find a Windows computer that will meet that criteria. The problem is that cheap computers offer compromises such as falling apart far too soon. If you're fine with that, then just keep buying new PCs every year or two and be happy with that.
If you'd rather have a computer that actually lasts and provides you with the benefits it advertises, then you have no choice but to choose Apple. Apple isn't the best company because they're so great but because rivals are so bad. When rivals must deliberately deceive customers to make their products look good, that's a clear sign that you can't trust that company for anything.
If a company is willing to lie and deceive customers about battery life, it isn't a stretch of the imagination to believe that same company won't lie about something else. If you want to give your money to liars and cheaters, then feel free to throw your money away on products that don't work as advertised.
Quality costs money but it's worth it. Far too often, high prices are simply artificial but in the case of Apple products, high prices give you quality. There's a price to pay for quality and a price to pay for cheaper products. The choice is which price you really want to pay.
To read more about how Apple's laptops are the only ones that meet advertised battery life, click here.